An Irish couple on holidays in Portugal made headlines when they had their eighteen-month-old daughter taken off them after being accused of drugging her.
Lee-Anne O'Donoghue and her partner James Moreland had been out with friends, and when Lee-Anne saw that her daughter Eireann was having teething pain she brought her back to their hotel and gave her some Calpol to ease the pain. Lee-Anne explains how hotel staff called the police as they said that Calpol was illegal in Portugal: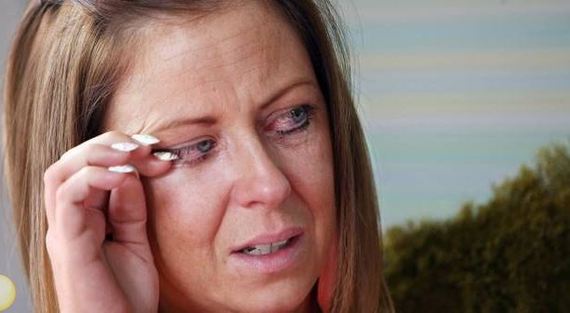 "I didn't know what was going on but next thing the police were there and they had seized the Calpol. They said I was drugging Eireann.
"They said they didn't want another tragedy like Madeleine McCann.
"More people started to arrive but no-one spoke English, we had no idea what was happening and all I wanted was to put Eireann into her wee cot to sleep."
However, Lee-Anne and Eireann were rushed to hospital because police were convinced that the little girl had been drugged. When they got to the hospital and doctors Lee-Anne was accused of abusing her daughter because of a scratch on her knee:
"As soon as I went in they were stripping and checking her, she learned to walk while we were away and she had a red mark on her knee from crawling.
"The doctor asked me, 'You smack your daughter? You scrab your daughter?'
"That child is my world, I couldn't believe what I was being accused of."
When Lee-Anne tried to stop doctors from taking her daughter's blood (because she'd had a bad experience with needles before), she was dragged away and handcuffed in a different room.
"When I went to get up they would put their hands on my forehead and fling me back to the ground.
"I was so frantic, Eireann didn't know anybody and no-one spoke English.
"They had me in a room for an hour and I have no idea what they were doing to her.
"I gave no permission to inject her but apparently you don't have to in Portugal — they can do what they want to your child."
Meanwhile, James had arrived at the hospital but he was allowed to enter, he explained what happened next:
"I got angry so they got me down on the ground and were punching and kicking me," he said.
"They handcuffed me, lifted me by my hands and threw me into the back of the police car — not on the seat, in the footwell."
When Lee-Anne was called out to calm him down, the pair were told to go back to their hotel as Eireann had to stay in overnight as her test results weren't back yet. When James looked for his wallet to pay for the taxi they had got, it was empty. Lee-Anne explained:
"€745 was gone — it was all the holiday money we had left.
"At the hotel we called the police to report the money stolen, they did come out but they wouldn't take a statement and denied they had taken it."
Their nightmare went from worse to worse as police accused them of being too intoxicated to look after Eireann, and when the results came back saying that she hadn't been drugged, they changed their story.
When the hospital said we hadn't drugged her police had to change their story about why they had taken Eireann off us — they had to justify themselves."
Their new story was that Lee-Anne had thrown her daughter from an eighth floor balcony into a pool – even though Lee-Anne's room didn't face out onto the pool.
"If I threw Eireann from eight floors anywhere she would be dead.
"It was just unreal, totally mad."
The couple have suffered nightmares since the terrible experience, and James has vowed never to go abroad again.
"Eireann is such a good child and we just wanted to give her a great holiday but it really was the holiday from hell.
"I can't wait until it's a distant memory."