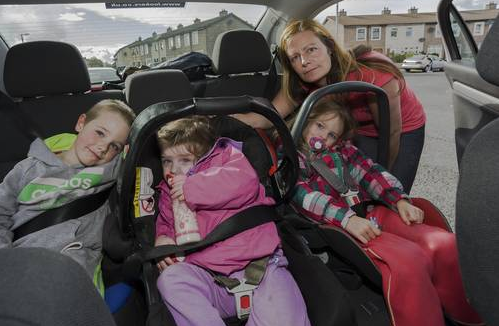 Sabrina McMahon and her three young children, Karl, Chelsea, (3) and Michaela, (2), have been forced to live in her car after there was no emergency accommodation available for them.
Sabrina and her family lived in Athy for nine years but decided to move her young family back to her native Tallaght, Dublin after their home was broken into and destroyed, saying: " I didn't feel safe there. I decided to go back to Tallaght with the kids."
The heartbroken mum said: "I really can't take anymore. All the children want is a back garden where they can play. I'm in a friend's house getting the children's bottles ready for tonight."
Sabrina is unable to find a landlord who is willing to accept rent allowance. When she went to South Dublin County Council's homeless unit but was told she will need to wait another month to be allocated emergency accommodation.
Sabrina and her children had been staying with friends and family since her partner left two years ago but has said that: "Nobody could put us up anymore."