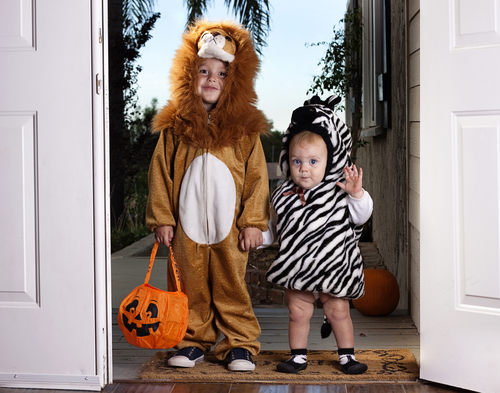 Trick-or-treating is what most kids look forward to during Halloween - going around house to house filling up bags with lots of goodies is the highlight of the year for a lot of children. However, because trick-or-treating takes place at night safety can become an issue.
Be Halloween smart with these five safety tips:
A torch or a lantern will not only add to a costume's eerie appeal it will also make going around at night a lot safer. You will be able to pick up lanterns fairly cheaply or even pull out the family torch from under the stairs. Never ever give them candles to carry around either as a light source or part of a costume.
Make sure they go with an adult
Never ask your older children to bring very young siblings trick-or-treating - they can get carried away with the fun and your toddler can wander off. Plus it's not really fair for them to have to look after others. Make sure you or another responsible adult goes with them.
Make sure their costume is safe
When they have their costume on, make sure there is nothing that can get wrapped around their neck and be sure there is nothing that they can trip over. Make sure it fits them properly and finally ensure they are warm enough.
Do a head count
On Halloween night there will be lots of children wandering about which will mean it will be easier for one child to get left behind. If you are going around in a large group, do a head count after you leave each house, double checking all toddlers are present. It doesn't have to take long just a quick check you have everyone before you move off.
Don't let them eat the sweets
Considering it is dark it is easy for your toddler to accidently eat a peanut or a boiled sweet without you realising. To keep things safe, don't let your toddler eat anything out of their bag until you are home and can check what they are putting into their mouth.