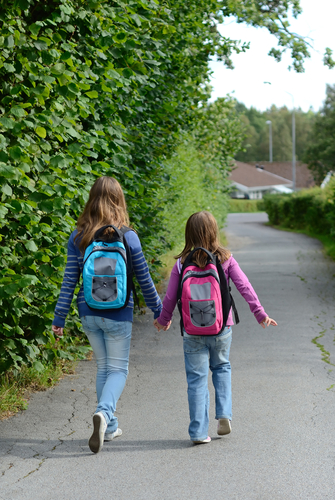 As your child gets older and more mature you may be inclined to let them make their own way to school, especially when they go on to secondary school. While it is perfectly ok to allow older kids make their own way, there are few things to think about in order to keep them safe.
Make sure it's safe
Before you let your child walk to school, make sure you are 100% sure the route is safe. Walk with them a few times and see if there are any places your child can get into trouble. Teach them basic road safety and not to talk to strangers.
Handling roads
Until your youngster is at least twelve or in secondary school you should avoid having them cross any roads. If it is the only way, cross with them before allowing them go the rest of the way on their own. Even if there are traffic lights around, ensure there is a lollipop person around.
Fields and quiet areas
Avoid a route that involves them having to go through fields or by quiet areas. Keep to busy routes where there are plenty of people around, even if it means they have to go the long way.
Go in groups
If possible get your son or daughter to go with a group of kids. Remember, there is safety in numbers but warn them that messing won't be tolerated.
Make sure they know your mobile number
Ensure your kid knows your mobile number off by heart, get them to recite it to you a few times to be certain they know it. To be extra safe, write it on their coat or school bag and tell them it is there.
Cycling
If they are cycling to school make sure they wear their helmet and keep to bike lanes. Don't let them cycle until they are able to manage their bike and know the rules of the road for cyclists.
Public transport
If your child needs to get public transport, like the bus, make sure both of you are aware of the times. Tell them to sit up front with the driver and to never go upstairs.