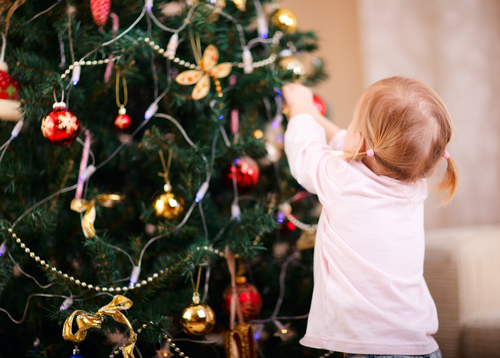 Christmas is a wonderful time of the year, with families bringing out the festive cheer and everyone coming together; however, with the extra lights, the tree and so many decorations, it can also be a dangerous time so it is important you are extra careful if you have a toddler in the house.
Here are nine ways to keep your toddler safe this Christmas:
Keep any packaging out of their reach
Paper, plastic and boxes should be stored out of your toddler's reach and eyesight. Plastic can pose a serious suffocation risk and should never be given to kids.
Avoid using glass or ceramic decorations
Glass or ceramic decorations might look gorgeous, but when dropped they can shatter into a thousand shards which can be extremely dangerous when you have a toddler running around.
Secure any loose wires
Loose wires can pose a potential trip hazard so make sure you don't have any across the floor where your little one might fall over them. Secure them to the skirting board or why not just skip the lights this year.
Put decorations up high
Thing like stockings, streamers, garlands and ribbons can be tempting to children who will want to pull them down. Make sure anything that you hang is put up high and out of your child's reach.
Check your lights
If you are using the same lights as last year make sure they are in the right working order and don't have any split wires which can be a potential fire risk.
Put a gate guard around the tree
Make sure your toddler can't get at the tree by placing a gate guard around it. If you don't have a spare one, why not put the tree in a less frequently used room in the house so that you can close and lock the door when your little one is playing.
Make sure your tree is secure
It is important you ensure your tree is properly mounted in its stand so that it doesn't fall down if accidently pulled by your little one.
Don't use real holly
Real holly can look quite festive when used as decoration but it is extremely toxic and should be kept out of your child's reach as they might accidently put it in their mouth.
Be careful of lit candles
As always make sure you never leave a lit candle unsupervised or where your toddler can reach it.