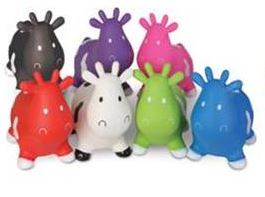 Looking for the perfect gift that will give your toddler hours of fun? Well, look no further than Betsy the Cow.
Betsy is a cool, retro makeover of the traditional space hopper and forms part of the fun range of KiddzFarm Animal Hoppers that little ones are sure to love.
Betsy is suitable for ages 12 months and older and is available in six bright colours. Made from BPA free plastic and tested to BS EN71 Standard, they are suitable for both indoor and outdoor use and would be a great way to keep the kids amused when it is raining.
Mums will also be glad to hear that the hoppers are not just for fun as the also help develop children's core muscle development and coordination skills. With their grippy horns and ears, kiddies will have something to hold onto as they bounce around
The animal hoppers come gift-boxed and complete with pump so you will be able to tick one gift off your Christmas list.