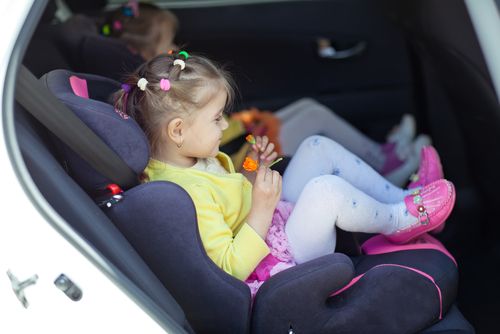 The results of a recent survey might have you drive a little more carefully in future, especially with your kids in the
family car
. According to the survey, conducted by Continental Tyres, nearly two thirds of children admit that their parents are aggressive drivers and 13% say they are either scared or embarrassed by their mum or dad's driving.
The survey asked 1,000 children in the UK and Ireland to report what they witnessed when they were being driven by their parents and how they felt about it. 63% of children between the ages of four and 16 who responded to the survey said their parents shouted at other road users. 20% said the "responsible adult" who was driving used a hand-held mobile phone while driving.
The survey also reported that 22% of children try and hide from view due to embarrassment when their parents are driving and one in five have asked their parents to drive more carefully.
Paddy Murphy from Continental Tyres Ireland said: "There are some serious failings highlighted here revealing poor driving practices and lack of courtesy by a lot of parents.
"What compounds that situation is the impact it has on the children. Nearly one in ten said they had gripped the seat in response to the speed of their parents driving.
"The assumption might have been that driving with a child in the car would prompt greater care and attention, but this evidence suggests not, and poor driving habits are potentially being ingrained in future motorists."
In the study 23 per cent of the children said that they had been in an accident with either mum or dad driving (mum 13 percent; dad 10 percent). Although the accident rate was higher among mums, 80% of children reported dad is more likely to speed and is also more likely to be aggressive while driving.
In many cases, having both mum and dad in the car together can make the situation even worse with two thirds of parents arguing about each other's driving. Many children rated their parents as better drivers when their was only one parent in the car.
Paddy Murphy of Continental commented: "Parents are normally very aware of the need to be good role models; this survey reminds them of the need to continue this when they get behind the wheel."