Giving your child the gift of reading is one of the best things you can do. We all know reading helps to educate them, but it also broadens their imagination, develops their speech and helps them feel better after a stressful day. Reading has been our saviour during lockdown and is the perfect form of escapism, no matter what age you are.
To help boost the number of mini bookworms in Ireland, McDonald's has revealed that customers will have the option to receive a book or a toy with all Happy Meal purchases from today. Over the past eight years, McDonald's has provided thousands of books to children across Ireland through its Happy Meal book promotions. But now McDonald's wants to make Happy Meal books a permanent option for children to enjoy.
With schools across the country closed as a result of COVID-19 public health restrictions, keeping children engaged with reading and improving their literacy skills is hugely important. From today, parents will be able to choose a book or a toy every time they purchase a Happy Meal for their child. Two new books will be available, Scooby-Doo and the Haunted Castle; Scooby-Doo and the Werewolf and book choices will rotate alongside the toy promotion.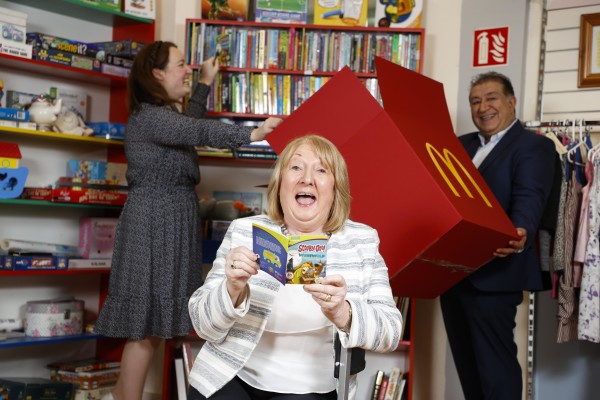 "We have been committed to getting books in children's hands for nearly a decade and are proud to have distributed thousands of books to children across Ireland," said Michelle Graham-Clare, Vice President Food and Marketing at McDonald's UK and Ireland, "The Book or Toy initiative is another example of providing our Happy Meal families with even greater choice – and what a choice to have! A brilliant story from some fantastic authors or a fun toy featuring some of their favourite film and TV characters."
"This programme not only allows us to distribute even more books, but also supports our sustainability journey, giving families the ability to opt out of plastic toys. We are always working on our Happy Meal and from 2021, we will no longer give away hard plastic toys. We're testing new packaging solutions for books and toys and constantly reviewing our Happy Meal gifts and menu to offer even greater choice to families."
McDonald's is firmly committed to encouraging and inspiring young children to read and is also announcing today it will donate 2,000 free children's books to the St. Vincent de Paul (SVP). The books, featuring authors such as Roald Dahl will be distributed to children across the country and support the charity's WordPower programme.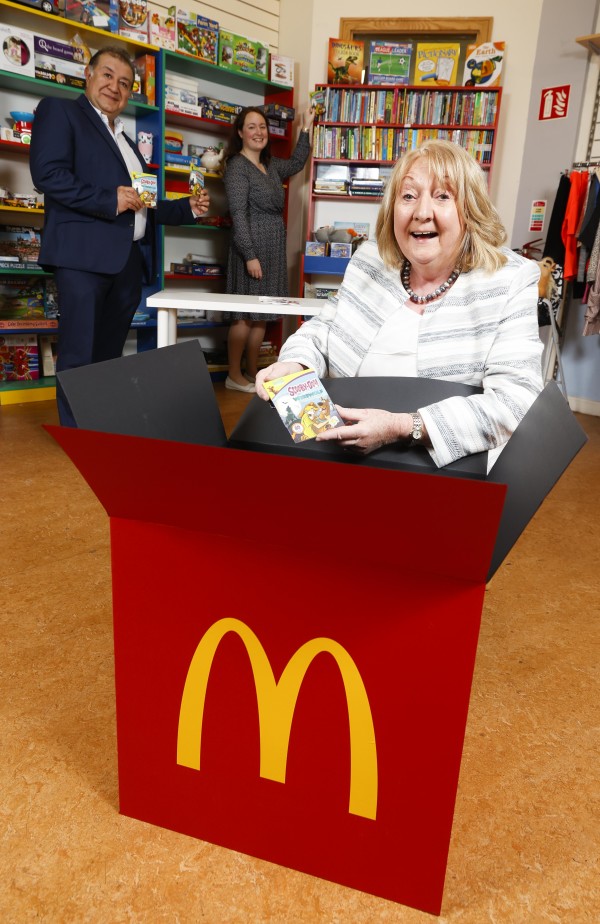 SVP National President Kieran Stafford thanked McDonald's for its donation: "This generous donation of 2,000 children's books will greatly benefit so many children and families across the country. This will help bring early learning and development benefits to children who might not normally have access to reading material. Half of the donation will be going to our East region's WordPower initiative which to-date has provided books to around 3,500 children in Dublin, Kildare and Wicklow. This donation represents a great boost to the campaign."
Clare Mander, co-ordinator of the WordPower book initiative for St Vincent de Paul, said: "The WordPower project aims to empower families, provide encouragement to parents and give opportunities to children and for the younger ones, help them get school ready. To further enhance the value of bringing books into families WordPower has published an information booklet for parents and guardians that provides guidance on reading with children, as well as information on joining the public library. Increased resources such as this donation from McDonald's can help bring the project to more families including those living in emergency accommodation and direct provision centres."
As well as encouraging children to read, this new initiative is another major move by McDonald's in their bid to reduce plastic use. These commitments will remove over 3,000 metric tons of plastic from the business from 2021, the largest reduction by McDonald's to date. The moves are the latest in a series of efforts to improve the company's impact on the environment.