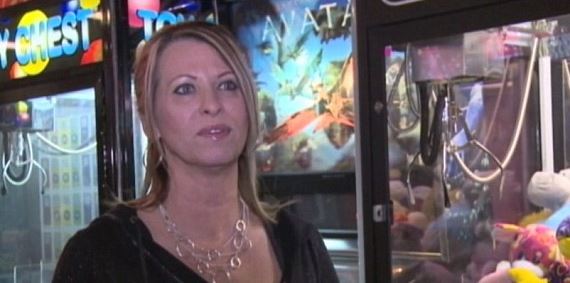 A missing toddler had everyone scratching their heads when he was found safe and sound inside an arcade toy machine.
The little boy's mum Ashley Ireland found an empty bed where her three-year-old son Kael should have been, in her Nebraska apartment in the U.S, on Monday morning.
After searching her home for her child but finding no trace, she frantically called the police, who launched a neighbourhood search for the tot.
Thankfully, the child was found by an employee of the bowling alley located across the road from the little boy's home.
Little Kael was found sitting in a toy vending machine at the venue playing with the teddy bears.
It is believed that the toddler took a shine to one of the stuffed animals and crawled up through the prize hatch to get it.
Staff at the bowling centre had to call the vending machine's operators, who were able to direct them on how to open it.
After being reunited with his mother, Kael was then allowed to keep a teddy bear from inside the machine as a memento of his adventure.
Everyone was left dumbfounded as to how the little boy managed to crawl inside.
An employee at the bowling alley Rachell Hildreth said, "How did he get in there? That's pretty much what everyone was saying."
Kael's mum said he was an energetic little boy "with no fear", who loved stuffed animals.