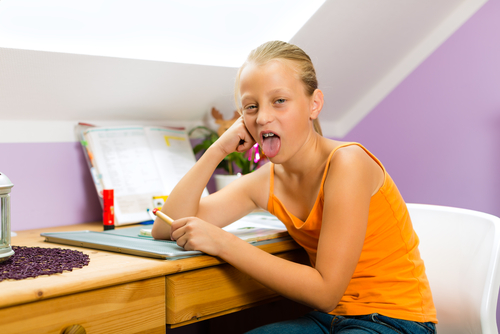 School is a very different experience for each and every pupil – while some excel and have a great time others can struggle to even stay motivated enough to do their homework. If the latter sounds more like your child, there are plenty of things you can do to help them.
Stay positive
Avoid using any negative tones or pushing your child to do something. What may seem like a lack of motivation on their part may in fact be a sign that they are really struggling with school or a particular subject. Sit down and have a chat with them about any problems that they might have to try to see if you can't figure it out between you. Keep things positive so offer plenty of praise when they do their work or get a good grade.
Help them by being involved
If you can, try to sit down with while they do their homework. Some kids can feel left out if they are sitting at their desk while the rest of the household are listening to music or even doing the dinner. Try to schedule your day so that you can sit with them - have a cup of tea while they do their work. Engage them in conversation about what they are doing and show that you are interested.
Create a study area
Sometimes the very thoughts of having to clear the table and get their supplies ready before they do their homework can be cause kids to lose motivation. To stop this happening, have a desk ready for them where they can keep school work and not have to do a pile of cleaning before doing assignments.
Work/life balance
Ensure your little one has a work/life balance that is good for them and that they are not overscheduled. Allow them have time to just be kids or watch a bit of telly – having too much on can exhaust your child and cause them to lose any motivation to do anything. If they are coming home tired how can they be then expected to spend an hour or two doing homework.
Sleep
Sleep is vitally important to ensure your child is able to perform at their very best - kids typically need between ten and 12 hours of shut eye each night. Ensure they are going to bed early enough to be able to get enough and if you feel their schedule is taking away sleeping time, reorganise their day or get them to drop an activity.