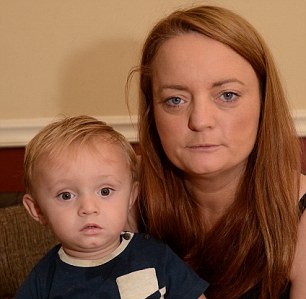 Mum-of-two Susan Tanner is outraged after a Stagecoach driver kicked them off the bus when her 15-month-old son Tommy started crying.
Susan and her two children, Tommy and his six-year-old brother Frankie were heading into Folkstone, Kent from their home 35 minutes away to buy school clothes for Frankie.
Just two miles from their stop, Tommy started to cry. The driver stopped the bus and told them to get off.
"The driver said 'Do you need some time out?' I asked what he meant." Susan recalls furiously.
"He then said 'Do you need to get off the bus because the baby is crying?' I said no, and I asked the other passengers if the baby was disturbing them. None of them said so."
'The driver then said "It's disturbing me and I would like you to get off the bus".
The family were left stranded, and Susan was forced to call her partner to ask for a lift despite having paid nearly £7 for the bus fair.
"Frankie was so upset because he didn't understand why his mum was thrown off the bus." Susan said.
"I am still in shock. I couldn't believe it."
A spokesperson for Stagecoach has apologised to Susan, saying the driver was completely in the wrong and acted against company policy.
"We were very concerned to hear about this incident," the spokesperson said.
"We have carried out an investigation to find out what happened and can confirm that one of our drivers suggested Ms Tanner alight the bus."
"This is definitely not part of any company procedure or policy and we would like to offer Miss Tanner our sincere apologies for our driver's actions."
"We will take appropriate action to prevent this from ever happening again."