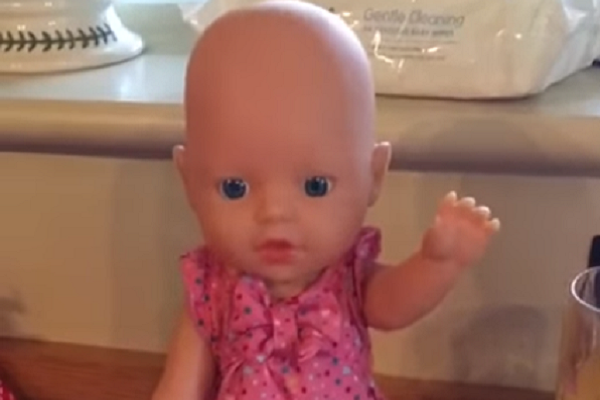 Picture via YouTube
As parents we worry about bullying on the playground, but who ever thought our kids might be cursed out by their own toy?
UK mum Siobhan Fox bought her two-year-old daughter a My Little Baby Born Walks Doll from Toys 'R' Us, and told The Sun that the doll is doing more than just walk.
The baby doll makes crying noises in Siobhan's video below, and seems to say 'You b*tch' at the very end.
Did you hear it, mums?
If you didn't, never fear. Plenty of people on YouTube also thought it was just regular old baby babble.
"Just sounds like 'yippie' on a child's toy talk box with poor audio quality. Get over it," one person wrote in the video's comments.
"I can't make it out. But I know sometimes nearly indistinguishable sounds will mean different things to different people," another validly pointed out.
Someone else said they hear a phrase that is actually probably scarier: "Im hearing: 'It bleeds, it bleeds'."
No, thank you.
The doll's manufacturers, Zapf Creations, issued a statement to The Sun saying that the My Little Baby Born Walks Doll is supposed to make babbling sounds that are is not meant to resemble offensive language.