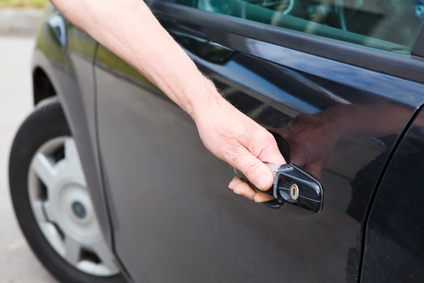 Florida mum Shauna Dees had a terrible scare when her 10-month-old son Jack was accidentally locked in the car under the hot August sun.
Shauna had been shopping and had taken Jack out of the shopping trolly and put him in his car seat. The trolly began to roll away and Shauna turned away to stop it – when Jack somehow hit the lock button.
The car wasn't running so there was no air conditioning on, and temperatures were nearly reaching 100 degrees. Locked in the car along with Jack were Shauna's keys and phone.
Someone in the car park gave Shauna their mobile to call 911, but to her horror the person on the end of the line refused to send help for her and her son.
The dispatcher told the frightened mum that police wouldn't be able to access the car unless the child he was distressed, and that they would just smash the windows.
After this, the dispatcher hung up.
"I was just sitting there, watching him get hotter and turn redder — and he was soaked with sweat," Shauna recalled, shaken.
Thankfully an off-duty policeman came across the situation, and called 911 himself, and someone was dispatched to help.
Before officers arrived however, someone went got a wrench and smashed open a car window, allowing Shauna to rescue her son from the sweltering car.
The Tampa Police Department have launched an investigation into the incident, stating that the dispatcher "absolutely made a mistake" and will face disciplinary action.
"The dispatcher should've kept the mother on the line, should've found out where she was and then immediately dispatched both a police officer and fire rescue," a spokesperson told reporters.
While still outraged at the treatment from the 911 dispatcher, Shauna is incredibly grateful for those that did help her save her son.
"I would like to say thank you to them, to the man who let me use his phone to the officer that was able to get the police out there," Shauna said.
"Those were the first responders."