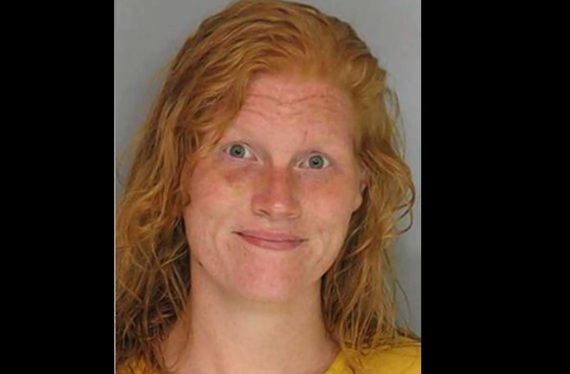 Ashley Gabrielle Huff, a 23-year-old mum from Georgia, has just been released after spending six weeks in jail, after police found a spoon in her car during a routine stop.
Police found a spoon inside a plastic bag in her car with a dried on substance. Ashley, who had no history of drug use or any criminal record, told them that she had been eating SpaghettiOs in the car. The police decided that the substance was meth, and arrested her.
While waiting for the test results, Ashley was ordered to attend drug counselling. When she missed an appointment, she was thrown in jail.
While in prison waiting for the test results to come back, Ashley lost her job and missed her children's birthday parties. Desperate to get out of jail and back to her family, Ashley started filing for a plea deal, which would have made her plead guilty to a felony.
Thankfully, two months after police found the spoon, the results came back. The spoon was completely drug free and was covered in dried tomato sauce, as Ashley had said all along.
"I think she said it had been SpaghettiOs," Ashley's public defender, Chris van Rossem said.
"From what I understand, she was a passenger in a car and had a spoon on her, near her, and I guess the officer, for whatever reason, thought there was some residue. She's maintained all along that there's no way in hell that's any sort of drug residue or anything like that," he said.
"I think what the unfortunate part about her case is that she was probably willing to take the felony to close out her case so that she gets out of jail, even though she always maintained innocence."
Ashley was released from prison and the drug charges were dropped.
"I'm just happy to be free again," she said. "It was so stressful. Nobody believed me."
"I said I had SpaghettiOs on my spoon. Nobody believed that. Everybody thought it was hilarious, but that was exactly what it was."