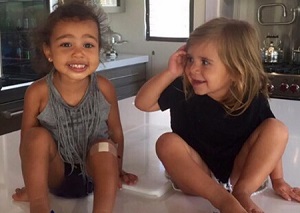 We've all had a giggle or two around the kitchen table when it comes to using Snapchat's HILARIOUS face swap app.
Seriously, swapping faces with our dogs, children and mates, is quite simply the funniest thing ever, something that little North West clearly agrees with!
Kim Kardashian's adorable little tot can been messing around with app with her best friend Ryan, the daughter of Kim's friend Tracy Nguyen Romulus, and the results are super cute!
Kim uploaded the clip on her Instagram account with the caption: "North face swapping with her best friend Ryan" and in it you can hear Nori calling herself Northy - so sweet!
Unsurprisingly, fans were gushing over the cuteness of the short clip with one user writing: "Cutest baby girl!"
We actually can't stop watching it!
SHARE if you thought this was the cutest thing EVER!