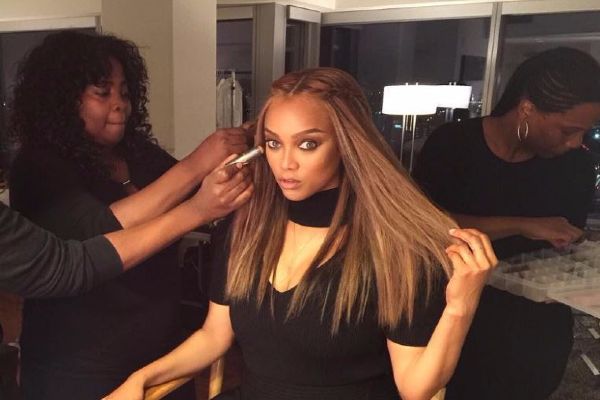 Last year, supermodel and TV star Tyra Banks posted a picture of her newborn son, York, on Instagram. However, the model didn't post an image where the boy's features could be seen.
The America's Next Top Model host went on to share another photo, last June, where his face can be clearly seen, however - and she has since regretted this decision.
"It wasn't so much that I was itching for the world to see him. I went to a restaurant for Father's Day with my son and my dad. It was by the ocean and my son was, 'Awa! Awa! Awa!' Water. And so I was like, 'OK, you're going to get in the water for the first time.' I slathered him with sunscreen," Banks said on Late Night With Seth Meyers on Thursday.
After the celebrations with her father, Tyra attempted to safely conceal her toddler from the paparazzi by wrapping him in a blanket. She says she didn't want the press capitalising on York's picture, so she decided to expose his image before they could - by posting a picture of him on her Instagram.
"I pull over the gas station after they get the shot, I text his dad and I'm like, 'I've got to put this picture out before the paparazzi. I don't want them to make money off our child and have the first picture.' So, I posted the damn picture," Tyra said in the interview.
"The next day, there ain't no paparazzi pictures, because Mama knew how to hide that camera. She's a supermodel for a reason! And so now his picture is out there, and I didn't need it to be!"
After going over a year without the public seeing her child, Tyra believes they could have gone longer if it wasn't for the paparazzi's interference.
Although she regrets posting the picture, she feels it's much better that she was the one who got to present him to the world, rather than some glossy magazine.
Tyra and her husband Erik Asla, welcomed York via surrogate in January of last year. York is Tyra's only child.