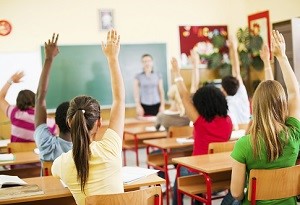 Learning in a busy classroom environment is a challenge for most kids, but for those with extra sensory issues it can be even harder. Our sensory systems take in and process information which allows us to move, learn, and interact with others. As an Occupational Therapist (OT), it is my job to figure out what is going on with the Sensory System, and put together a Sensory Diet which makes interacting with a child's world easier.
Jake (fictional name) is seven, and having a tough time coping with making and keeping friends, doing his homework and attending class. He has a sensory-seeking profile and has difficulty with putting movements together; a condition called Developmental Coordination Disorder.
Through the use of social stories,
fidgets [which are hand-held sensory feedback items], and
sensory strategies for the classroom - like using a cushion that allows him to move a little when sitting - he is beginning to make progress.
Regulation of emotions and alertness are a priority for his parents at the moment, and through a programme
called the Zones of Regulation - which is
specially designed to foster the skills we need - Jake has made great progress. At times when he is anxious, he utilises his breathing techniques, and self-initiates strategies to help with self-calming. Jake played on the green following one of his sessions, something which his mum was so proud of.
Through group sessions in school, we use a specialised programme to help with learning gross and fine motor skills, and working on foundation skills such as building core tone and getting both sides of the body to coordinate. Jake has responded really well to a sensory motor-based handwriting programme. OT is about providing parents and teachers with the tools to help children develop, and promoting a child's self-esteem through play.
Natalie Halloran B.Sc. Occupational Therapy (Hons) PrivateOT Network
See Natalie's practice listing | http://www.privateot.ie/ot/natalie-halloran/ YouTube Video |Do you need an OT? |