Being a busy mum on the go can be challenging, especially when it comes to catering to your child's hydration needs. Choosing a ready-to-drink liquid can be a useful option instead of powdered follow-on milk, especially when you are out and about.
Using a ready to drink follow-on milk is an excellent choice when you want something that is quicker and easier to prepare than powdered formulations. With no mixing, or boiling and cooling water, they are ready to drink! They save valuable time and energy, ensuring your little one stays hydrated during outings without much fuss. For a busy mum juggling multiple tasks, these more convenient and mess-free liquid options provide much-needed relief and peace of mind and are great for days out, night feeds and holidays.
Inspired by 50 years of breastmilk research, the Aptamil range of follow-on milks has been created to support you in how you choose to feed your child and although Aptamil Follow on Milk has been available in powder format for some time, you may not be aware that the range also offers pre-made, ready to drink formats.
Did you know that follow on milks help support a weaning diet?
At 6 months your child may be trying lots of new things, from sitting up, to using a sippy cup and trying solids. Each new experience can help them build resilience and practice skills they'll use later in life.
Between 6-12 months milk remains an important part of their diet, especially during weaning. They still need 500-600ml of breast milk or follow on milk a day.
Aptamil follow-on milks are specifically tailored to support your child's development and contains vitamin D to help support the normal function of the immune system, as well as iron to help support normal cognitive development. After six months your child has an increased nutritional need for iron, making iron-rich foods an important part of their weaning diet.
Aptamil products to consider when out and about with a busy lifestyle.
Aptamil Follow On Milk - Ready to Drink anytime, anywhere

Inspired by 50 years of breastmilk research, the range of Aptamil® Follow-On milks contains vitamins A, C & D.
It is tailored to complement a weaning diet from 6-12 months and contains vitamin D to support the normal function of the immune system. The range is available to buy in 200ml ready to drink bottles or 6 bottle multipacks.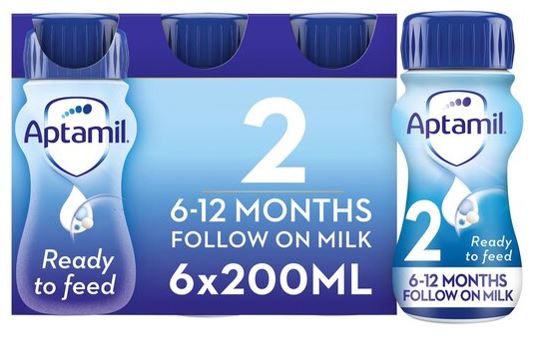 Important notice
Breastfeeding is best for babies. Follow-on milk is only for babies over 6 months, as part of a mixed diet. It should not be used as a breastmilk substitute before 6 months. The decision to start weaning including the use of this product before 6 months should be made only on the advice of a doctor, midwife, health visitor, public health nurse, dietitian, pharmacist, or other professional responsible for maternal and child care, based on baby's individual needs.
Always follow preparation instructions and storage advice.
Brought to you by