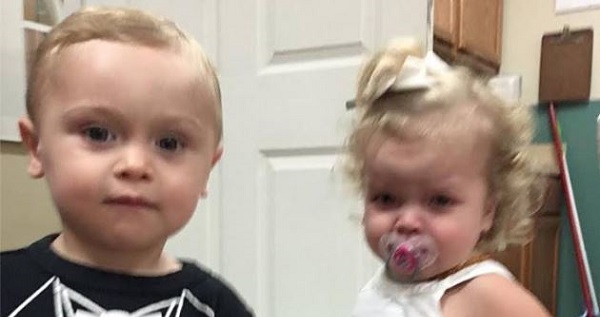 There are cute stories, and then there are stories so adorable that they leave us reaching for the tissues; the story of Fulton and Lydia definitely falls into the latter category.
Jennica McIntyre's son, Fulton, is two years old and has been best friends with little Lydia since they were just six months.
The pair have attended the same day care all along, and with Fulton set to move house, there will soon be miles between them.
To give you an idea of just how much this pair love each other, consider the following, which Jennica shared with Love What Matters: "They have napped beside each other every day, and had play dates outside of school. She carries a photo around of the two of them on a slide, and he asks about her every morning on the way to day care."
With all involved more than a little sad at the prospect of Fulton and Lydia being separated, the parents came up with an amazing idea to 'celebrate their love' – they threw them a 'baby wedding'!
The story was accompanied by an adorable photo of Fulton in his 'tux' and Lydia in her 'wedding dress' – and the internet has gone wild for the little tots.
"As young as they are, they won't forget about each other…Friendship like they have is everlasting…rare…I wish many blessings for both of them," wrote one woman.
This has absolutely made our day!
SHARE to bring a smile and a laugh to a loved one.