Classic crème caramel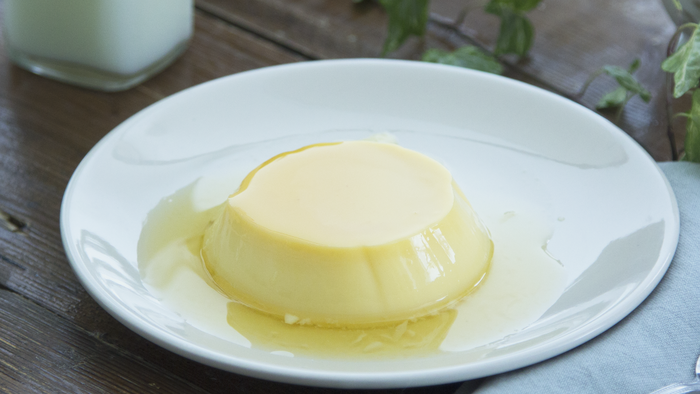 A traditional dessert you need in your repertoire!
900ml Avonmore Low-fat Super Milk
150g caster sugar
6 large eggs
1 vanilla bean
1 pinch salt
For the caramel
200g caster sugar
50ml water
In a small saucepan over medium heat, combine water and sugar and bring to a boil. Swirl the saucepan regularly, until caramel forms.
In a large bowl, cream the eggs with the sugar and salt until pale and foamy.
Remove the seeds from the vanilla bean. Add to a large saucepan with the milk and bring to a boil. When the milk is boiling, pour over the eggs and mix well.
Heat the oven to 180°C/350°F/Gas 4. Divide the caramel into the ramekins and let harden for about 5 minutes.
Strain the egg preparation and divide evenly among the ramekins. Place in a deep baking tin and add hot water up to 2cm.
Bake for 25 to 30 minutes or until there is no more liquid part. Remove the ramekins from the dish. Cover and refrigerate overnight.
Before serving, loosen the edges of the crème with a knife. Place a dessert plate, upside down, on top of the ramekin and invert onto plates.
Serves
8
Preparation Time
20 minutes
Cooking Time
30 minutes
Main ingredients
Dairy, Eggs, Sugar
Recipe Type
Party Food, Dessert, Entertaining, Family Dinners, Vegetarian, Classics
Cuisine
French
Special Info
Gluten free, Nut free, Vegetarian
Level of Difficulty
Medium
Don't worry if some hard caramel remains on the bottom of the ramekin when you turn the crème caramel, it is normal.
Other recipes you may like
Trending and Sponsored
Hello Mama!
Help us help you by allowing us and our
partners
to remember your device in cookies to serve you personalized content and ads.
We're on a mission to help our mums and their families thrive by informing, connecting and entertaining.
Join us in our mission by consenting to the use of cookies and IP address recognition by us and our partners to serve you content (including ads) best suited to your interests, both here and around the web.
We promise never to share any other information that may be deemed personal unless you explicitly tell us it's ok.
If you want more info, see our privacy policy.