Good morning baby breakfast cookies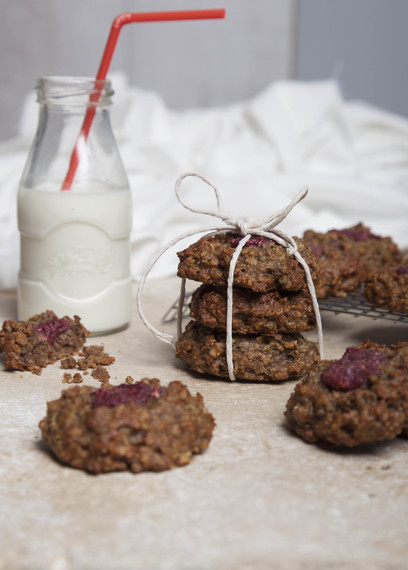 A delicious breakfast recipe for the whole family!
3 ripe bananas
60ml rapeseed or olive oil
160g peanut butter
200g oats
1 tsp bicarbonate of soda
1 tsp ground ginger
1 tsp ground cinnamon
1 tsp vanilla extract
4 tbsp Chia Jam
Preheat oven to 160ºC/325ºF/Gas 3.
Add the bananas, oil and peanut butter to your blender and blend until smooth and gooey.
Place all of the remaining ingredients (except for the chia jam) into a bowl and pour the banana mixture in. Stir until completely combined.
Spoon a heaped tablespoon of the mixture per cookie onto a lightly oiled baking tray. Leave a little space between each one.
Using the back of the spoon, press down the centre of each cookie to make a little well; then place about a teaspoon of Chia Jam (recipe below) into each one.
Bake in the oven for 12–15 minutes. Keep an eye on them from 12 minutes on, as you don't want them to get too hard for little mouths.
Remove from the oven and leave to cool and set before giving them to your baby - and your whole family.
Serves
6
Preparation Time
5 minutes
Cooking Time
15 minutes
Main ingredients
Fruit, Nuts, Seeds
Recipe Type
Easy, Healthy, Babyfood, Breakfast, Vegetarian
Special Info
Gluten free, Egg free, Vegetarian, Dairy free
Level of Difficulty
Easy
To make the Chia Jam, combine 300g summer berries, 1/2 lemon juice and 2 tbsp maple syrup in a saucepan and simmer for 12 to 15 minutes, stirring often. Add 2 tbsp chia seeds to the saucepan and allow to bubble away for a further 5 minutes. Transfer the jam to a sterilised jar and tap to remove any air pockets. Then seal and store in the fridge.
Other recipes you may like
Trending and Sponsored