Roasted garlic and potato soup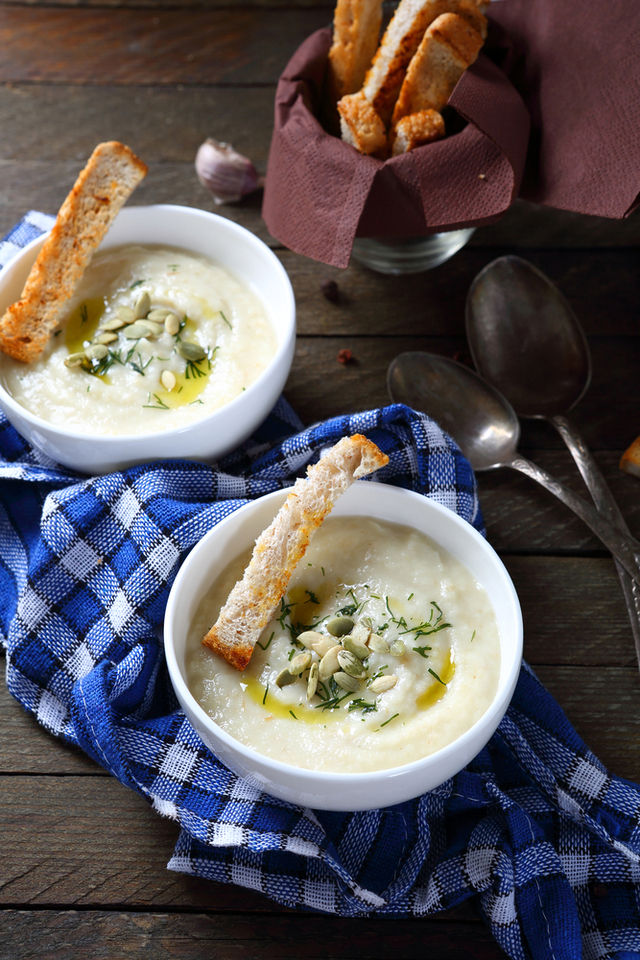 Roasting the potatoes and garlic adds a depth of flavour to a classic soup.
4 medium red potatoes
1 large onion, coarsely chopped
2 tsp fresh rosemary, chopped
1 garlic bulb
1 tbsp olive oil
250ml chicken stock
1 tbsp plain flour
¼ tsp pepper
235ml light cream
Fresh rosemary sprigs (optional)
Homemade Croutons
2 large handfuls sourdough or rustic bread, sliced into fingers
2 tbsp butter, melted
½ tbsp. dried Italian herbs
Handful, varied seeds (optional as garnish)
Preheat the oven to 200°C / 400°F / Gas mark 6.
Line 2 baking trays with greaseproof paper and set aside.
Peel and cube two of the potatoes.
Cube the remaining 2 potatoes, leaving the skin on.
Place peeled potatoes on one side of the baking tray and the unpeeled potatoes on the other side.
Sprinkle the onion and rosemary evenly over everything.
Peel away the dry outer leaves of skin from bulb of garlic.
Leave skins of cloves intact.
Cut off the pointed top leaving the bulb intact, but exposing the cloves.
Place the garlic bulb, cut side up, on top of the potatoes.
Drizzle olive oil over everything and bake, covered in foil for 50 minutes or until garlic cloves feel soft and potatoes are tender. Allow to cool.
Squeeze the garlic bulb to remove the paste from the cloves.
Use a food processor to combine the garlic paste, peeled potatoes, about half the onion, half of the chicken stock, all of the flour, and pepper.
Cover and blitz until nearly smooth.
Pour the pureed mixture into a medium saucepan.
Stir in the unpeeled cooked potatoes, remaining onion, stock, and the cream.
Cook and stir over medium heat until slightly thickened and bubbly.
Cook and stir for 1 minute more. If necessary, stir in additional cream to make the soup the desired consistency.
Homemade Croutons
Preheat the oven to 200°C / 400°F / Gas mark 6.
Spread the sliced bread in a single layer on the prepared baking tray.
Stir together 2 tablespoons of melted butter and the Italian herbs.
Pour over the bread and bake for 5 minutes.
Give them a shake then bake 5 to 10 minutes more or until crisp and brown.
To serve, ladle into soup bowls with the homemade croutons and seeds if desired.
Serves
4
Preparation Time
15 minutes
Cooking Time
75 minutes
Main ingredients
Dairy, Vegetables, Bread, Stock/Broth, Seeds, Garlic, Herbs
Recipe Type
Soups, Easy, Family Dinners, Healthy, Vegetarian
Special Info
Vegetarian
Level of Difficulty
Easy
Other recipes you may like
Trending and Sponsored