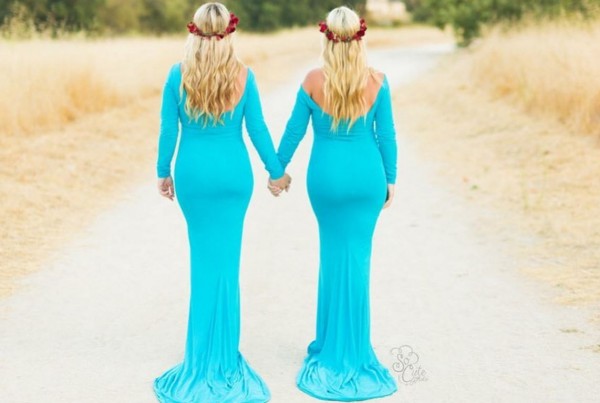 You may remember the story of Corey and Katie Struve, the sisters who gave birth within 20 minutes of one another last year.
Their story went viral, after Corey's husband, Travis, captured amazing footage of the sisters' doctor rushing between both rooms as the mums-to-be were in labour.
Katie first gave birth to daughter Indie, while Corey went on to welcome daughter Ryatt 20 minutes later.
The sisters, who have a two-year age gap, had previously marked their pregnancies with a joint photo shoot, captured by Brendan Boggs of So Cute Photo.
In a post on his official Facebook page, sharing the stunning images, Brendan recounted: "I photographed Corey and Katie's maternity photos last year. I thought it was so sweet that two sisters got to experience such a special time together.
"Even though their due dates were a few weeks apart, they ended up giving birth on the same day – only 20 minutes apart! We all joke that they are twin-cousins!"
A year on, and with an Instagram page dedicated to their little ones, Katie and Corey wanted to do something special to celebrate their daughters' milestones. Enter Brendan, who captured the most beautiful birthday shot.
"It was so much fun to see how much life can change in a year," he wrote, in the new Facebook post.
"Now, Corey and Katie have two beautiful baby girls full of personality, and they all can't wait to see what adventures the next year of toddlerhood brings."
The post has garnered plenty of love across social media. It seems the sisters' choice of colour has also tickled many a fancy, too!
That personality that Brendan was talking about is there for all to see over on Indie Mae and Ryatt Rae's joint Instagram page.
The page, which boasts over 23,000 followers, documents highlights from the tots' first year including celebrations, outfit posts and sweet family memories.
We love the idea of a one-year follow-up photo shoot, and Corey and Katie's has to be one of the most stunning that we have ever seen.
What do you think, mums?