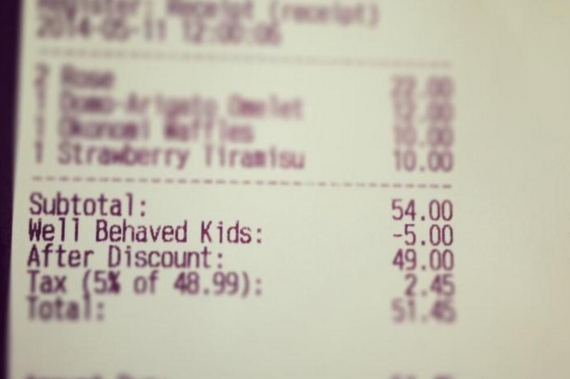 A Japanese restaurant called Carino Bistro in Calgary, Canada, has received lots of attention lately after it was discovered they offer a $5 discount for families with well behaved children.
Daley and Alicia Welsh were surprised to find that their bill included a $5 discount due to them cleaning up after their toddler, Evie.
Their receipt has gone viral after the Welsh family uploaded it to Reddit, and the owner of the restaurant, Toshi Karino, spoke of his surprise, saying: "We've been doing it for about a year ... This is the first time that we've ever given it out that people have noticed ... We want to show appreciation for the kids and parents, if they don't make [other diners] uncomfortable."
The discount is never pointed out to families, it is just automatically added if the staff feels the family is deserving of it.
However, the restaurant is now concerned about upsetting those families who perhaps do not receive the discount, "If customers feel unhappy when we don't give them the discount for the kids, we are concerned about that. Maybe we'll have to think of something different."