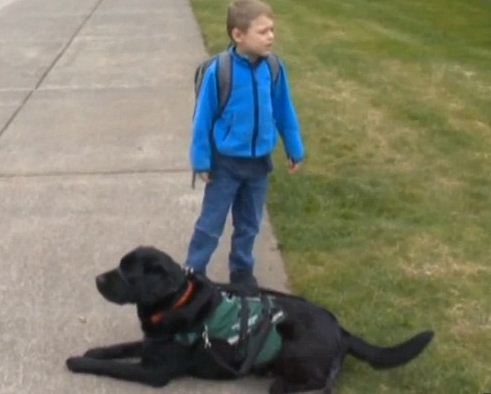 A six-year-old boy is at the centre of a dispute between his parents and the school district after the latter refused to provide a handler for the child's service dog.

John Mc Donald, who suffers from autism, requires the help of service dog, Kai, on a day-to-day basis, but has had to attend class alone for the past three months as the school has stipulated that Kai must have a handler present at all times.

Kai's presence was initially accommodated by John's school, but news that John's parents are required to pay for a handler has resulted in an impasse between the McDonalds and the school.

As a result, John, who is non-verbal, has attended school without the help of Kai because neither his parents nor the school feel they are responsible for hiring and paying for a dog handler.

The school district argue that John's parents are required to hire and pay for the service under the Americans with Disabilities Act while the McDonalds don't feel a handler is necessary in this case.

Opening up about the issue, John's mother said: "I guess I was naive. I thought 'it's a service dog, he's allowed to go in public places'. He's mandated that he can go with John anywhere. It never occurred to me that it would come up to something like this."

Commenting on the dispute, Middleton Principal, Jeremiah Patterson, said: "The District communicated to the parents that, under the provisions of the Americans with Disabilities Act, the dog is welcome in the classroom as long as either a parent or someone the parents arrange is in the classroom to supervise and care for the dog."

The family believe the school district is misinterpreting the legal regulations and are currently awaiting a legal verdict on the case.