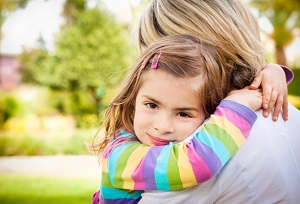 For many parents and children, it can be truly hard to say the daily goodbyes. To separate from each other can be a real tug at the heartstrings, whether it's for the parent who works and is doing the drop off in the morning, or simply the parent at home that takes time away to get things done.
What's going on when we initially separate?
From the day our children are born, they depend on us to make them feel secure. This is about the parent simply meeting their child's basic needs of being fed, changed and comforted when upset in a consistent and loving way. In a nutshell, this is how attachments are formed between a parent and child. So when we separate from them – which is a reality for each and every family - it can often leave the child feeling a little anxious, and their way to express this can often be to cry. It may seem unusual, but this kind of reaction is really very natural and to be expected.
The reason children fight with the initial separation is because they are upset by their parent not being there, and instinctively worry about how they will cope. I worked with a parent previously whereby their little boy was getting upset both at drop-off and pick-up time from crèche. The reason he was upset on their return was almost as a way of saying 'I am not very happy with you for leaving me today', and also possibly because, having coped for the time the parent was gone, he felt relief at their return and unconsciously didn't feel the need to cope any more.
What is our child telling us?
Many infants and toddlers will cling to their parents, particularly if they are upset or stressed in any way - this is not a sign of insecurity, it's our child telling us that they want us around to help them keep their emotions in check. When we hear the child-minder or childcare staff telling us they were fine moments after we left, this is because our child has got used their surroundings and their carer's and, therefore, feel confident to explore further from their parent.
What can we do?
It can be hard for both parent and child, but it's important that you, too, be confident in your child's ability to cope in times of separation. Children do eventually grow through this stage in their life at their own pace. Providing the comfort and emotional support is the best that you can do.
Put a little picture of your family in his bag for him to look at during the day or keep safe until you pick him up - it's tangible, visual and meaningful.
If pick-up is an issue, arrange with staff, if at all possible, for you to ring five minutes before collection so they can tell him and be prepared for your arrival.
For children that wave us goodbye with a big smile on their face – they are just as happy as the child next to them – they are only choosing to express it in a different way!