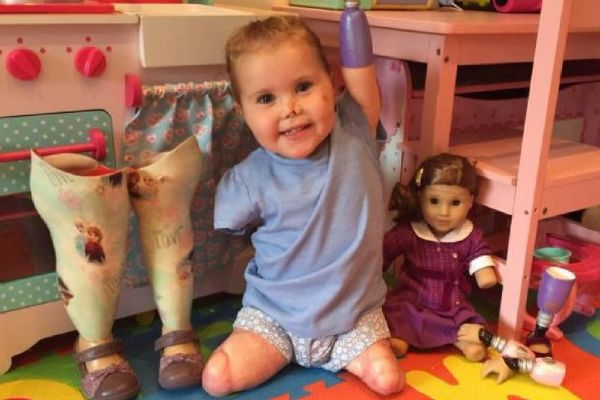 Harmonie-Rose Allen was just 11 months old when she was struck down with a severe case of meningitis.
The tot from Somerset in England was so ill that doctors only gave her a ten percent chance of survival.
However, after having all of her limbs amputated, the tot pulled through and beat the deadly illness.
Harmonie's family began fundraising for prosthetic legs for the little one and with the help of 2,000 generous supporters raised £10,000 for the legs.
Harmonie, now aged three, has been putting her new legs to good use and has been taking her very first steps.
An emotional video captured the moment Harmonie walks for the first time while her mum Freya screamed with excitement.
"Harmonie, you can walk! Oh my God!" Freya exclaims as the determined little girl toddles towards her.
Posting the video to Harmonie's fundraising page, Hope 4 Harmonie, Freya wrote: "We bought new legs from Dorset Orthopaedics with money from the Hope for Harmonie fund, donated by all of you.
"She has done it. Our princess has done it. Just this morning. She has walked on her brand new pair of legs.
"WOW, she has blown us away. We are so proud of her and cannot believe we can finally say she can walk!"
The proud mum added: "Every day she shows us that nothing is impossible. She's our inspirational, determined, warrior.
"We are so proud of you Harmonie. We love you".
The adorable tot understands the newfound power of her legs and asked for them to be decorated with unicorns because "they are magic" and help her walk.
Last year mum Freya bought Harmonie a very special birthday gift, a quadruple amputee doll named Rebecca.
"There is something special about this doll…She is just like Harmonie…A quadruple amputee! She has prosthetic arms and legs! And she's all the way from America, from the very famous shop American Girl, in New York!" Freya wrote.
Harmonie was delighted with her new friend, with her doting mother adding: "As you can see, she is already loved very much in this house, and I know she will be Harmonie's best friend forever".
We are so delighted for this inspiring little girl and her family, what an amazing achievement.