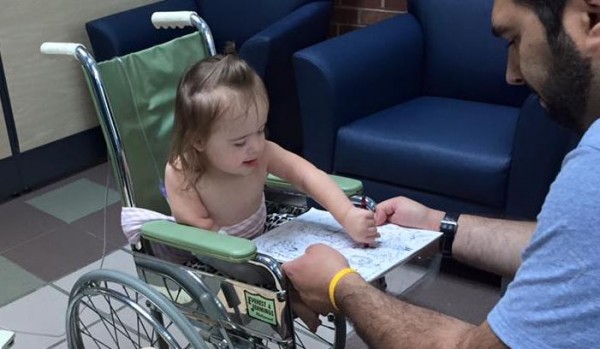 Blogger Pam de Almeida is a mum of two daughters: Emma and Sophia, who has Down syndrome.
The mum-of-two often writes about her family on her Facebook blog Slice of Life, and frequently posts honest insights into her life as a "special needs mum", through images and written thoughts.
But it is her most recent post that has hit a cord with so many people; a post she uploaded after Sophia was hospitalised for 14 days following a blood infection.
Writing on her Facebook page, Pam starts by explaining she was "pretty hesitant" about sharing her "secrets" - secrets she has never even talked about with family and friends.
It is then she admits that she breaks down from time to time, and gets nervous and anxious, despite everyone thinking she is a "strong mama".
She also explains how other people's words make her cry and how she can feel lonely because friends don't understand what she is going through.
However, it is her last "secret" that is truly heartbreaking, as it is here where she admits that she is afraid of her youngest child dying.
"When your child has health issues and is pretty much at a "higher" risk to develop every disease and catch every sickness there is, it worries you. You don't let it consume you," she wrote.
"But the biggest point that I want taken away from this post, is that I wouldn't change any of it. Not for a day, not for a minute, not even for a second.
"No matter how hard or challenging things become, no matter how many friends walk away, no matter how many cruel comments, no matter what health issues we will face, we will face them together."
Not surprisingly, Pam's words touched a chord with so many people, with fams and followers thanking her for taking the time to publish the post.
"I can relate to each and every one of your secrets. Life has been hard, but I wouldn't change it for the world. Hugs, my friend. Hang in there!" wrote one, while another said: "Brave of you to share the thoughts that so many of us have/had. Blessings!!!"
SHARE Pam's inspirational words.