The Spotlight Oral Care Sonic Toothbrush for Children has been created by dentists and mothers, especially for children. Following the launch of our best-selling Sonic Toothbrush in 2019, which was Rated Number #1 Best Electric Toothbrush by Women's Health Magazine 2021, the Sonic Toothbrush for children is a much-anticipated addition to the Spotlight Oral Care range for both parents and children.
Designed with the same exceptional technology used in our original Sonic Toothbrush, our Sonic Toothbrush for Children is shorter in height and has a textured grip on the back of the handle to help ensure ease of use for little ones. The smaller brush head size and two speed settings offer optimal deep-cleaning while keeping children engaged and brushing independently.
Using professionally designed sonic technology, the Sonic Toothbrush allows the gentle feel of a manual toothbrush with deep-cleaning action. The sonic toothbrush was designed with both efficiency and comfort in mind. Gentle and effective in removing plaque and discoloration, the Spotlight Oral Care Sonic Toothbrush for Children ensures an amazing clean and, in turn, long-term oral health for all the family.
Dr. Lisa and Dr. Vanessa Creaven say: "As mothers and dentists, creating safe, effective oral care solutions for children is our priority, and looking after their oral health begins with a great cleaning routine. Brushing teeth and gums twice a day for 2 minutes each time is the first step toward establishing a positive, lifelong relationship with their oral health and their smile."
Key features:
Smaller sized brush & brush head for children
Two speed settings - gentle & clean
2-minute self-timer
Textured hand-grip on back of brush handle
Gentle and effective in removing plaque and discolouration
Long-lasting battery
Comes with travel case
3 heads included
The Sonic Toothbrush for Children retails at €59.95, is suitable for aged 2+ and includes a travel case and 3 replacement brush heads.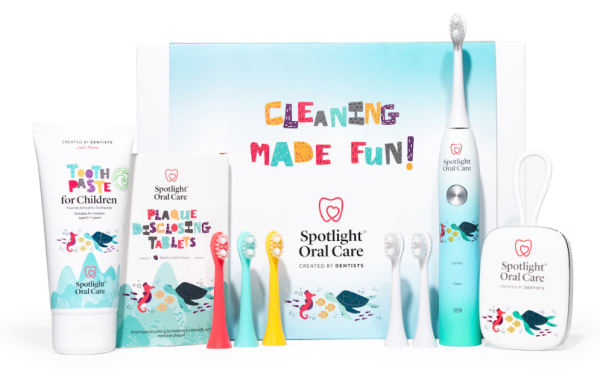 Spotlight Oral Care has also launched a brand new Ultimate Kids Care Bundle, exclusive to SpotlightOralCare.com, which is valued at €149, retails at €130 and includes all the essentials a child needs to complete their daily oral care routine
The Ultimate Kids Care Bundles comes with the Sonic Toothbrush for Children, a UV Steriliser, Plaque Disclosing Tablets, Spotlight Oral Care's Toothpaste for Children and 3 extra replacement brush heads in various colours.
The UV toothbrush sanitiser uses UV LED Ultraviolet technology to effectively sanitise your toothbrush, eliminating harmful bacteria. The built-in, quick-drying fan leaves your toothbrush clean and dry, making it safer for little ones to use right away.
The Plaque Discolouring Tablets contain a safe dye that identifies any plaque missed during brushing. The blackcurrant flavour tablets help children to brush teeth and remove plaque effectively for a happy, healthy smile.
Spotlight Oral Care Sonic Toothbrush for Children costs RRP €59.95 and the Spotlight Oral Care Ultimate Kids Care Bundle costs RRP €130.
The new toothbrush for children is currently sold out, such was the initial demand, but you can join the wait list here. It will be back in stock later this month and those interested can sign up to be notified when it's back in stock.