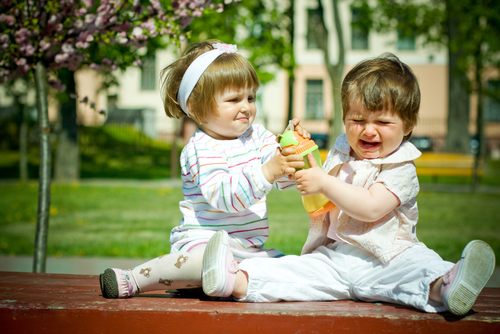 Learning to share is a hugely important part of growing up. And while it is easier for some kids than it is for others, it is really important you make the effort to teach your toddler to share. For some it will come naturally while for others it might take some time and persistence but the key is patience.
Here are five ways to teach your toddler to share:
Don't force them
Don't force them to share otherwise they will start to become possessive of their items. Instead when they refuse to share tell them why it is important, reassure them that they will get it back and ask them why they don't want to share.
Take turns
Teach your child to share through the task of taking turns. This way while you aren't using the word 'share' you will be introducing them to the concept by getting them to have a turn of, say, playing with the ball before they give it to their friend to have a go.
Create sharing opportunities
Create opportunities for them to share so that they get into the habit of doing it. When you invite friends over have your little one share their toys. Play games that involve taking turns like a yo yo or a Frisbee and give one piece of cake between two at a party to get them into the habit of sharing.
Ask why they don't want to share
If your little one doesn't want to share a particular toy you need to ask them why to understand. It could simply be that they other person doesn't treat their stuff well, it is their absolute favourite toy , that they don't really understand that sharing toys doesn't mean giving them away or that they simply don't want to. Understanding their concerns will help you get over them.