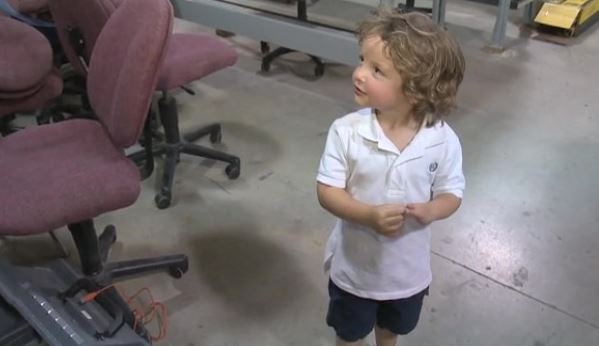 A group of teenagers have put their free time and skills to incredibly good use by building a prosthetic hand for a little boy.
Two-year-old Zaxton Waters, from Texas in the US, has been missing the three middle fingers on his left hand since birth.
However, the toddler has a kind-hearted big brother looking out for him who was determined to give Zaxton a very special gift.
The toddler's older sibling Christian approached his former robotics teacher Herb Wasson to help him design and create a prosthetic hand for his little brother.
Originally, Christian thought of using his school's 3D printer to create a pre-made hand for Zaxton but this design was made for an adult and wouldn't fit on Zaxton's tiny arm.
Herb had the idea of asking three students, Jacob Ostrander, James Bell and Lexi Wilson, if they could design a kid-sized hand.
It took several attempts but finally the team created a design they were happy with - the latest model opening and closing with a bend of the wrist.
"We had Zaxton come in one day and he tested it and he loved it, but it didn't quite fit yet," Jacob said, "We're trying to make it sleeker, more useful, easier to use, and of course fit."
The latest version allows Zaxton to move his hand but the students are making improvements all the time and also plan to add a logo of one of the toddler's favourite superheros to the model.
This brilliant design won the state title in the Skills USA competition and the students hope to make it to the national championship event in Kansas City this summer.