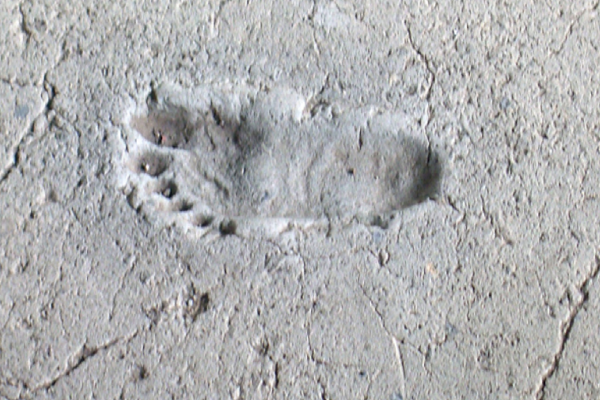 A toddler from Tennessee caused a slight setback in her family's home-redecorating project when she walked on wet concrete in their new basement.
Izzadora Millaway was looking for her parents in their home on Friday afternoon when she walked down to the basement.
The basement floor had just been covered in concrete about 30 minutes earlier by contractor Jonathan Porter and his fellow construction workers. The basement was previously a playroom for Izzadora and her siblings.
"We were putting our tools back in the truck and I thought, 'Well, I'll just go over here and look inside the basement and see how it's firming up,'" Jonathan, owner of Porter Concrete Construction Co., told ABC News. "And I saw the little girl standing there."
Jonathan said he's seen dogs, cats and insects walk on wet concrete - but never a human.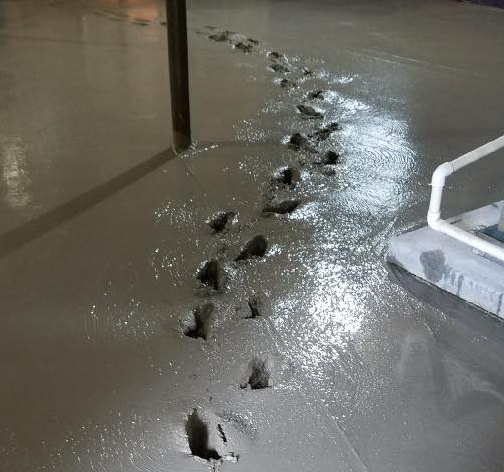 "I've never seen anything quite like that. That was just a priceless moment," he said.
Although her mum and dad were understandably very frustrated, Jonathan told them to just laugh about it and to take a picture of the hilarious scene.
"When I saw her, I said, 'Oh my God,''' said Jonathan. "I told her to stand right there. Her parents looked like they were going to get irate, but it was just funny."
The girl came out of the concrete unscathed and her parents washed off the substance using some dish-washing detergent and soap.
"They had just poured that section, so I was hoping that it wouldn't dry that quickly,'' her mother said. "Had they already left, I probably would've had to call 911 because we didn't know what to do."
Izzadora also saw the funny side of the situation. "She was just kind of like, 'I found you,'" her dad said.
"She's probably going to do it again the next time she sees some. I think she enjoyed it. She stood there like it was fun."
Her dad, Brad Millaway, shared the picture on Facebook with the caption: "They were still there. They hadn't finished it completely yet."
Jonathan and his crew waited for the concrete to dry, and then filled in the holes created by Izzadora's feet.
The Millaway family decided to use the footprints as a memento by keeping two pairs of footprints of Izzadora and her older brother, Colten, in a corner of the basement. The kids and the incident are now immortalised in the corner of the room.