Did you know that science can be applied to the care and health of children's feet through their footwear?
Biomecanics, the only children's footwear company with studies and scientific evidence, along with the Institute of Biomecanics of Valencia (IBV), has developed footwear that adapts to the morphological characteristics of each stage in a child's walking journey by protecting the foot's freedom.
By collaborating with the AEEP (Spanish Association of Paediatric Nursing) and the IBV, Biomecanics designs and develops footwear that covers the needs that have been identified by both institutions about the fundamental stages in a child's development.
One of these stages is the gait acquisition stage, where crawling overlaps with the child taking their first steps. Baby shoes must be designed with this in mind. For example, letting your baby go barefoot allows them to generate stimuli and explore through their feet, and Biomecanics Biogateo line has been created to give a similar effect as barefoot walking. This means, in environments where footwear is necessary, children can still feel as if they're walking with no shoes so they have a familiar barefoot feeling.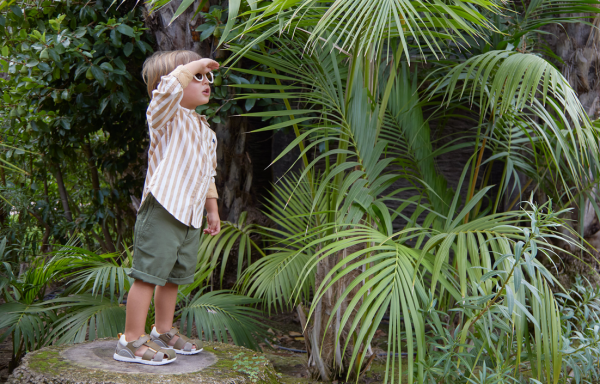 A recent study about the influence of footwear on children's first steps found that during the gait acquisition stage, baby footwear should protect the feet from uncontrolled environments, but at the same time allow for foot mobility, and reproduce the natural stability of barefoot walking.
The Biomecanics Biogateo line takes these variables into account with their design. Its flexible stabiliser on the outside provides the necessary support to the ankle without limiting mobility, as it does not have a heel counter like most shoes, which can be restrictive. Its function is to prevent internal displacement of the foot and to maintain the natural stability that little ones have when they are barefoot, which helps to avoid falls and possible injuries. They have been designed to take the evolution of foot shape, gait and stride into account, as well as the anthropometric data of the instep and the development of the plantar arch collected in their research.
The Biomecanics Bioevolution shoe is perfect for the development of mature gait patterns. During this stage, a child's physical activity increases and this shoe line has been designed to withstand intensive use as your child walks more and more. This allows your growing child to have the freedom of movement as the shoe adapts to the foot, not only lengthwise but also widthwise, as your little one's foot can change in both size and shape as they get older.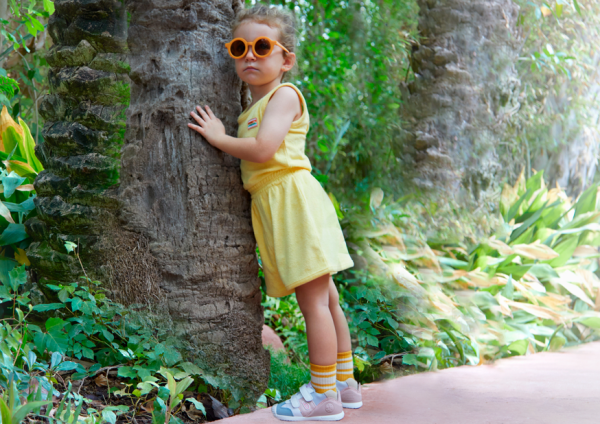 Properties of Biogateo line (Size 18-24) for crawling and first steps
Weightless feeling due to their light and soft design.
Fine, non-slip and dorsi-flexible sole, making them super flexible in all directions and not restrictive.
Has a removable antibacterial flat insole to allow aeration through the shoe.
Velcro straps make an adjustable fit to adapt to your child's foot size and shape. This helps to prevent pressure or rubbing from the shoe.
U-shaped heel prevents too much pressure being put on the Achilles tendon.
No heel counter so your little one has the freedom of movement with no pressure.
Made from non-toxic materials.
Properties of Bioevolution line (Size 24-34) for consolidated gait stage, eg. walking, running and jumping
Flexible shoe with an outsole that has flex grooves.
Reinforced toe to help protect the foot from falls or injuries.
Slack in the toe and instep to allow freedom of movement without pressure.
Removable antibacterial flat insole to allow aeration to the foot.
Has an adjustable fit with Velcro and it adapts to the shape of the foot's instep.
Flattened seams to prevent chafing.
Made from breathable and non-toxic materials.
For more information, visit www.biomecanics.com/global/en/