The Kelkin Natural Biscuit Co.™ Little Oaty Bakes are the perfect bite sized biscuits for your little ones.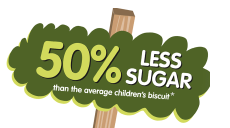 Little Oaty Bakes have half the sugar than the average children's biscuit*, making them the ideal snack.
They are made withwholegrain oats, are high in fibre too and have no addedcolours or preservatives so you can be sure your little one is eating a wholesome treat. They are individually wrapped in little mini packs making them perfect for lunchboxes.
There are four flavours to chose from including Apple, Strawberry, Raspberry and Banana so there is bound to be one that your child will love.
There are also fun games on the back of the individual packs, which will be sure to keep the kids entertained on those long car journeys or on playdates.
We asked some of our Mummypages Mums to try all four flavours of The Kelkin Natural Biscuit Co.™ Little Oaty Bakes. Each of the mums agreed to take the full range and for her and her family to try them over a week. The feedback was unanimous - they LOVED them! Not only did mum enjoy the great taste of new Little Oaty Bakes but her kids loved them too - the ultimate seal of approval. Mum tested, kid approved status!