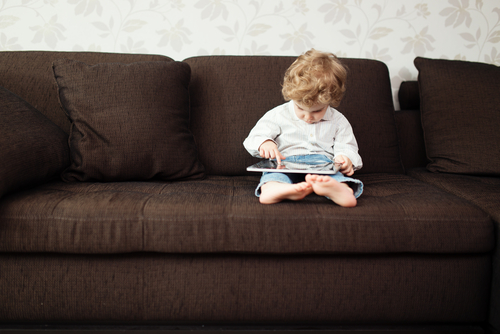 While we may be amazed at our tot's technological advancements, there can be some disadvantages to it as well. Here are some pros and cons when it comes to your tot and technology:
Pros:
Motor skills
They may get our keypads sticky but our tot's keyboard actions can be brilliant for their motor skills. So by simply pushing keys and moving a mouse, your tot will get the same type of workout they would usually get from finger painting or doodling. This can also improve your tot's eye-hand coordination, which will pay off when it comes to your little one learning to catch a ball or attempting those tricky puzzles.
Educational
Technology cannot only give your tot a sense of control but it can also be educational at the same time.
Cons:
Bad social skills
It's no secret that computers can be bad for our social skills and are even more damaging for our tots. Social interaction is especially important for our little ones, as it not only enables them to develop empathy but allows them to have fun as well.
Not enough hands-on time
While certain keypads can be great our tot's motor skills, it can also limit their hands-on time when it comes to other things. Our little ones educate themselves through their hands, whether it's messing with sand or building blocks; hands-on time is important for our tots.
Too much
While you may think computers have a calming effect on your tots, it can actually cause the opposite. Toddlers can become overwhelmed by technology from the loud sounds, bold colours, and bright lights - none of these things are good for your tot. Another bad side effect is that your tot may become too dependent on the laptop and may have difficulty later, focusing on quieter pastimes.
Lack of physical activity
The most obvious con. Technology can lead your tot to spending too much time sitting in front of the screen instead of getting some much needed exercise. Physical activity is important for your little one as it not only builds strong muscles, but it also the primary way in which our tots can really discover what their bodies can do.