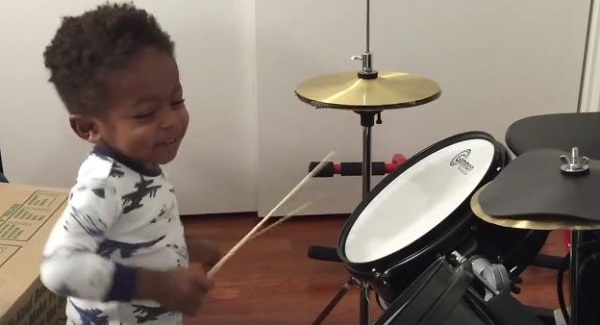 Drumming takes a particular type of skill and rhythm that comes naturally to a musician – but, seriously, as early as one year old?
Those scoffing just need to check out this video of one-year-old musical prodigy LJ Wilson, who has stunned the world with his incredible drumming talent.
LJ's dad, Justin Wilson, took to Facebook to upload a video of the adorable tot jamming out to a beat on his drum kit, clad in a pair of super-cute dinosaur PJs.
For anyone expecting some random tapping of cymbals and bashing of toms however, you are in for a surprise – this kid can not only set a great beat, but he is already performing flicks and tricks on the skins.
While LJ's mum and dad are both musicians, neither of them plays the drums; indeed, it was only after LJ began playing a bongo like a drum kit that they ordered a set for him, making his talent all the more unique and special.
Having gone completely viral since being uploaded on 16th June, LJ's video has attracted over one million views – and plenty of awestruck comments.
"I showed this to my family and friends (all musical peeps) and they were all floored! Such a precious little man, and what rhythm!!" wrote one fan.
We predict big things for LJ.
SHARE with a fellow music-lover who will be amazed by this.