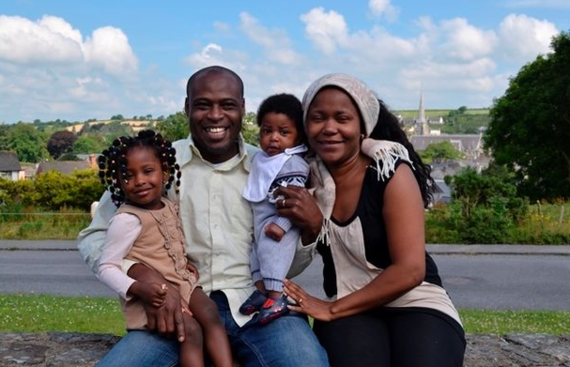 This family, who were torn apart by the conflict in Congo, were reunited again thanks to the Red Cross Restoring Family Links service.
Rose Tshiania and Benz in Co.Cork Ireland, broke down in tears at the sight of each other, as they were convinced that they had both lost each other in the Democratic Republic of Congo war.
Rose and her daughter Kiniya were seperated from Benz who was missing, believed to have been killed during the conflict
Rose who was pregnant at the time arrived in Cork with Kiniya and soon gave birth to a son Israel a few months later.
Both Rose and Benz settled in Ireland to restart their lives but were completely unware that they were only living 150km away from each other.
But thanks to the Irish Red Cross they were able to track each other and their family was finally reunited.
Red Cross volunteer Lar McCarthy told how they fell to the floor hugging and crying when they were brought together.
He said: "The reunion was unbelievable, but sometimes it doesn't always work out so well.
"Sometimes we have to go back to people with bad news. But thankfully, that is not the case here. Thankfully, this story has a happy ending."