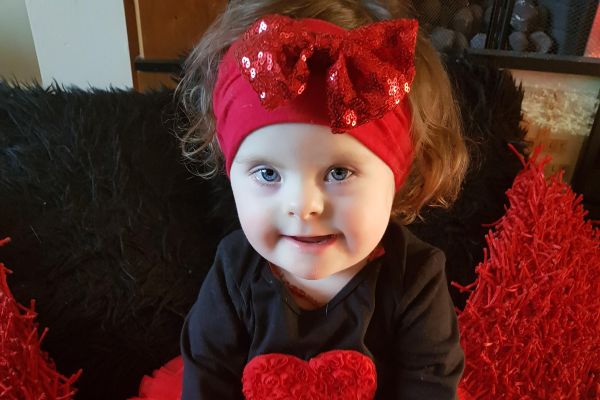 An Irish mum recently came up with a brilliant idea to raise money and awareness for those living with a congenital heart defect (CHD). Dozens of family members and friends all came together not to go under the knife (thankfully), but the needle, for a wonderful cause.
Over 40 people excitedly - and rather nervously! - waited for their turn at Crazy Cats Tattoo in Ballyfermot to get 'inked' in honour of their loved ones. And around 42 tattoos later (with more than a few tears, both fearful and happy!) over €1,000 was raised for Heart Children Ireland.
Rhona, a mum from Carlow whose utterly adorable daughter Molly (in the picture above) has a heart defect and Down syndrome, organised the event and said on her Facebook page, she came up with the idea being inspired by other individuals who had gotten tattoos to represent their friends and family who also had Down syndrome.
She spoke to MummyPages last year about her beautiful daughter's incredible journey so far and got in touch with us again when she decided to hold the fundraiser to tell us how it all came to pass and spread more awareness.
"There has been a huge movement in [the] Down Syndrome world to get a tattoo of 3 arrows to represent being pulled back but then being brought forward, which went viral but as Molly has both a heart defect and Down Syndrome, I devised a modified version which is her ECG reading - a heart with the arrows at the end," Rhona explained.
"So, I asked my tattooist, 'Eddie the Bull' from Crazy Cats Tattoo in Ballyfermot if he would be interested if I got a few parents who would get the same done and he agreed to do it and donate the proceeds to Heart Children Ireland."
In the end, 46 people took part in the amazing seven-hour tattooathon (all getting designs similar to Rhona's original one) with all proceeds going to the charity as part of Congenital Heart Defect Awareness Week. Much of the brilliant event was documented on the Little Heart Warriors Ireland Facebook page and on Instagram with pictures and videos of the unique day out.
"I had over 46 people getting tattooed with a heart-related tattoo, loads similar to mine, with some getting their child's scar done on their chest to match," she added. " We had couples, best friends, mother and sons all getting it done."
And it looks like the fantastic event itself has gone viral; it has received national coverage in newspapers and radio.
Rhona also mentioned that Molly is doing incredibly well, having had a second open-heart surgery in December and is "all clear for now, thank God," said her very proud mum. While she told us last year that initially, a part of her 'grieved for the daughter she thought she would have', as soon as Molly was born, she realised that she actually had 'twice the daughter she wanted'.
"Instantly, everyone who meets her falls in love with her. She is the warmest, cutest, most loving baby ever," she said, adding that her daughter even had a few modelling jobs, her first which was for a baby accessory range.
The success of her daughter's Facebook Page has meant so much to Rhona - who also has two sons - and her family, and she said that she took inspiration, herself, from the impact the page is having on others whose lives are touched by Down syndrome.
I've had a huge response from other parents who are either pregnant, saying, 'Thanks very much, it's great to see what's ahead of us.' And loads of parents who have had kids going, 'This is what's ahead of you.' Which is all great," she said.
A huge congratulations to Rhona, Molly, her family and all the participants who did this quite amazing thing, all in the name of those they love and a wonderful cause.