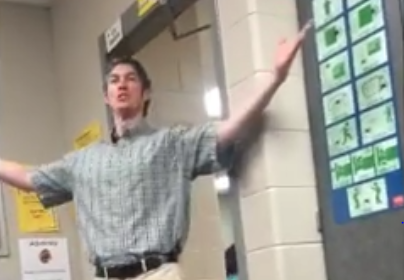 We all know how important education is in our children's lives.
What's even more important is having good teachers that keeps them engaged and feeling encouraged.
Well that's exactly what Spanish teacher, Andrew Ward has done for a group of teens in Kansas City.
Beginning every class with a huge "Buenos dias!", Señor Ward is inspiring his students with his enthusiasm.
And now there's is proof of his skills as two students Bella and Taylor decided to film Señor Ward and his epic entrances.
The video has now gone viral with Andrew's students posting about how much they enjoyed his classes because of the energy he put in.
Other students, teachers and parents across the country have now been showing the love for Señor Ward.
"When I win the lottery and open my own school, you're hired" one use wrote.
"This is the reason I fight for teachers"
"I would have stuck with Spanish if you were my teacher."
This is just some of the praise Señor Ward received online thanks to his love of Spanish and teaching.
You can watch the video here, and be prepared to have a big smile on your face after ten seconds.
SHARE this heartwarming video.