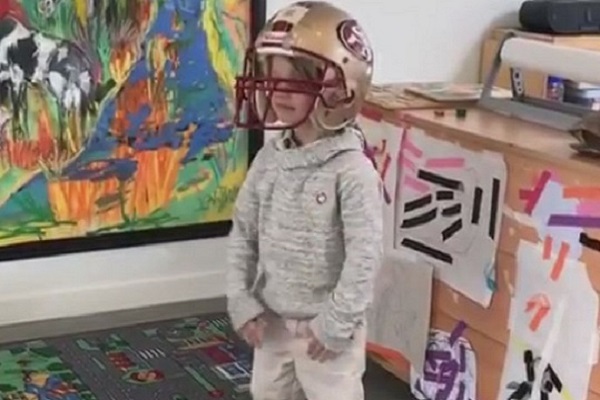 Jessica Simpson has shared the cutest video of her son Ace.
The four-year-old was asked to bring something to his class show and tell presentation.
It's safe to say that some kids pick the strangest and funniest items to show and tell. From the pet snail that they found on their way to school to their granddads set of false teeth.
Many kids will bring in an item that reminds them of their parents whether that's their granny's recipe book or the veil their mum wore on her wedding day.
Ace chose the perfect item for his presentation- his dad's football helmet.
Ace's dad Eric Johnson is a Former NFL player, so the youngster couldn't help but show off part of his dad's old uniform.
His teacher explained the meaning behind the object to the class as Ace struggled to lift the heavy helmet up onto his head.
She shared, "Ace's dad played football, and he used to wear it to play football games."
Ace finally managed to put the helmet on which was met with a huge round of applause from his fellow classmates.
The school kids cheered and yelled "Wow!" at the end of the four-year-old's presentation.
Capturing special moments like this is so important to mums. Jessica couldn't help but share the cute moment with her four million Instagram followers.
She captioned the adorable video, which has been viewed over 296,000 times, "Show & Tell #DaddysBoy #ACEKNUTE."
The sentimental moment has brought a smile to our faces, and we aren't the only ones who loved the video.
Fans flooded Jessica's Instagram post with comments about her heartbreaker of a son, "Oh my god this boy is an absolute sweetheart."
They couldn't help but praise the youngster for his presentation, "Don't you wish they could sound like that forever?? #cutenessoverload"
One user joked, "That helmet weighs more than he does!"
Ace's dad used to play football for the San Francisco 49ers in 2001. The sports star went on to play for the New Orleans Saints until 2008.
The youngster proudly showed off his dad's helmet, much to the delight of the San Francisco 49ers supporters.
Football fans couldn't help but praise Ace for wearing the 49ers helmet, "At least his daddy played for a great team. 49er faithful for life."
Fans wondered if Ace will follow in his dad's footsteps, one wrote, "Aww Ace must be so proud of his dad."
Eric must be so honoured that Ace chose his helmet for his show and tell presentation. It was definitely a crowd pleaser!