Tired of streaming TV, video calls and walks during Level 5? Looking for something different this November? This year Science Week has gone virtual with hundreds of free events taking place online.
Running from 8-15 November, Science Week has something to suit all ages and interests, whether it's food, mindfulness, a quiz with a twist or family events, it's something different this November.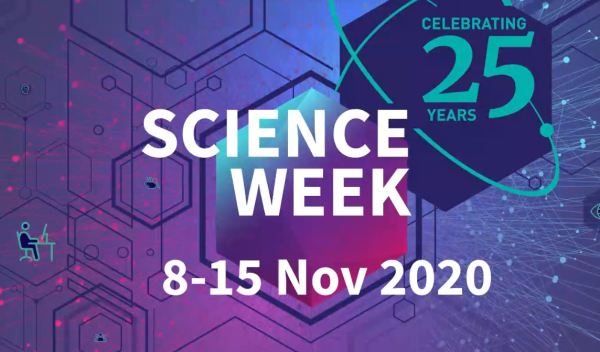 And this year, Science Week want to hear from you on how you would like to see science positively shape our collective future. We've never talked so much about the science of vaccines, but how would you like science to change how we work, travel, grow older or respond to climate change? To share your views on the areas that are most important to you visit the Science Week platform Choosing Our Future from the 8 – 15 November. These views will be shared as part of the Science Week content on RTÉ One from Tuesday 10th to Thursday 12th November.
Dr Ruth Freeman, Director of Science for Society, Science Foundation Ireland said: "This year, Science Week aims to engage the public with our numerous virtual events and encourage them to not only participate in the various seminars, but also to share their views and wants for the future. With hundreds of diverse events scheduled for Science Week, there truly is something for everyone and every interest."
Most of the events are free and as they are virtual, numbers are not limited, with some exceptions. Below are some of our favourites to do with friends virtually, as we look for new ways for a shared experience.
ASPIRE with ABBOTT is a live conference that will include a host of well-known personalities and inspiring STEM advocates including Dr Niamh Shaw, Gaming Engineer Brenda Romero, Future of Work Expert Peter Cosgrove, Health and Nutrition Expert Daniel Davey and many more. In addition to the talks and presentations, ASPIRE with ABBOTT will have a virtual exhibition hall. ASPIRE with ABBOTT will take place on Thursday, 12 November 2020, 10am-5pm.
Science Week Virtual Family Day a day of engaging online events for all the family from a live quiz, interactive workshops and entertaining presentations. SFI will be hosting the Family Day on Saturday, 14 November 2020, 12 – 7pm.
The Mirror Trap a short, immersive scientific experience about psychology and quantum physics described as 'weird' and 'trippy' by past attendees. Taking place on Saturday, 14 November 2020, 7 – 7:45pm.
Gulp, presented by science broadcaster Jonathan McCrea (Newstalk/RTE) and chef Ivan Varian (Dalkey Food Company), explores the science and culture of food. The event takes place on Tuesday, 10 November 2020, 8 – 9.30pm
Pick Your Brain! Live quiz with Phil Smyth will have the questions and bad jokes, but will you have the answers? This 60-minute quiz will have a wide range of topics and tests for grown-ups. Friday, 13 November 2020, 8 – 9pm.
Full details of all events and on how to join the conversation on Choosing Your Future are available on scienceweek.ie.