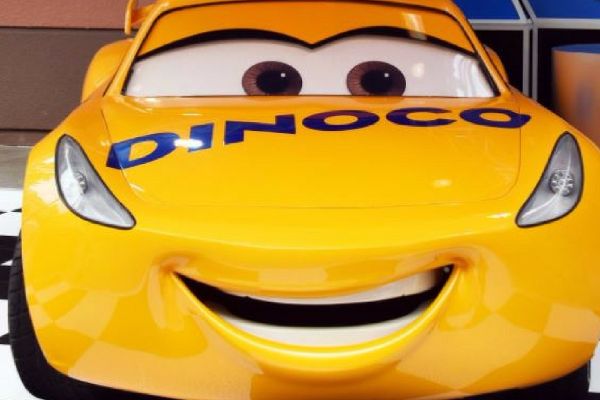 While we all knew Wonder Woman was going to be a great movie for our daughters to enjoy, the latest movie in the Cars franchise is proving to be a surprise hit with parents and daughters alike.
That's because Cars 3 features a new strong female lead character for the first time, racing car Cruz Ramirez, who is voiced by comedienne Cristela Alonzo.
Up until now, the lead roles in the Cars movies have always been male and the character of Cruz was originally conceived as male also.
However, director Brian Fee revealed to The Washington Post that his daughters Lucia, 11, and Eleanor, eight, inspired him to create a powerful female lead.
He says he grew up with many male action heroes such as Indiana Jones and the predominantly male cast of Star Wars which had influenced him to create male lead roles.
I loved this interview. A lot of talk about what influences us. https://t.co/UIuHhnnWIi

— Brian Fee (@FryinBee) June 19, 2017
"Now that I have two daughters, I see the world through their eyes," the director says. "I see how little they have (culturally), and I see what they're up against. I see how they hold themselves back.
He decided to use his daughters' personalities as inspiration for the role. "A lot of them is in Cruz," he explained.
Cruz's story begins when she becomes Lightning McQueen's motivational trainer. However, we soon learn she has an interesting back story, she competitively raced in the past before giving up because she was told she couldn't compete with "the big boys."
The movie is already a hit with parents since it hit cinemas last Friday and topped the box office over the weekend.
After seeing the movie, many cinema fans went online to express their thoughts about why it was such an important movie for young girls to see.

I love the fact that now little girls can look up to someone like #CruzRamirez thank you @cristela9 & @pixarcars #Cars3 #Cruztela pic.twitter.com/oL19u240l1

— Jessica (@JMARES_4143) June 16, 2017
Twitter user Amy wrote: "If you have a daughter, take her to Cars 3. She'll come out wanting a Cruz Ramirez to be awesome with her Wonder Woman."
Another mum tweeted: "So... Cars 3! Unexpectedly feminist and clearly thought-provoking to 4-year-olds."
Meanwhile, another user tweeted: "I knew Pixar was capable of making a feminist family film for boys but didn't expect it in Cars 3."
We love to see strong female characters represented in children's movies, it really is so important for both our daughters and our sons.
Will you be taking the family to see this movie mums? Let us know.