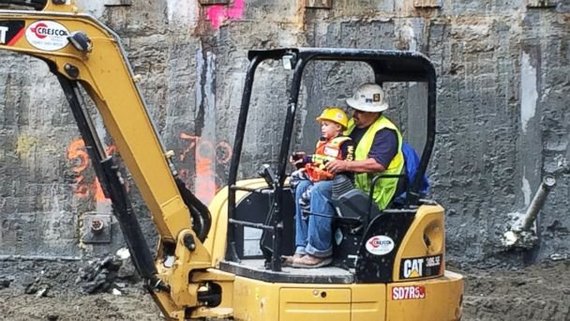 A little boy from California who has spent the last year fighting cancer, had his greatest wish granted when he was able to spend a day at a construction site.
Three-year-old Renzo Lombardi was diagnosed with cancer last year when a three pound tumour was found on his kidney.
Renzo had surgery to remove the tumour and his kidney, and spent five months undergoing chemotherapy to clear the cancer from his body.
Renzo was given the all-clear in December and is finally getting back to a normal childhood. His favourite toys are diggers and trucks, and his greatest ambition is to be a construction site foreman.
The Make-a-Wish Foundation heard about Renzo's dream, and organised with local construction and property companies to make it come true.
Renzo was named an honorary foreman at a construction site in San Francisco, where he was carried around by the real foreman and helped to operate a digger himself.
"The people kind of made him a little nervous at first but as soon as the foreman got him in with the construction equipment, he lit up," Renzo's dad, Vince Lombardi said. "His mom and I were nonexistent at that time."
"He was waving and smiling, which was wonderful to see because most of his second year of life, we were locked down at home," Vince said happily.
As well as using the digger, Renzo was able to leave a permanent record of his experience, when he helped pour concrete for a special tile with his name and hand print on it.
Renzo's family are overwhelmed with gratitude for Make-a-Wish's work in putting the day together. "I've seen what they do for others, but to see it with Renzo, that organization is amazing," Vince said. "They do amazing stuff for kids."