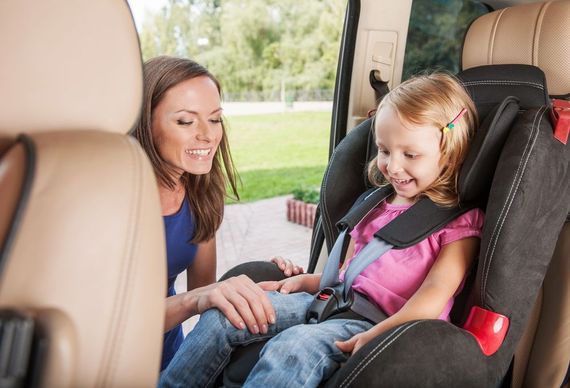 Before fitting your child's car seat, it is important to be aware that a rear facing car seat is safer when fitted in the back seat of the car but if there is no room in the back seat then they can be fitted in the front passenger seat. They should NEVER be fitted in the front passenger seat if there is an airbag on the passenger side. If the airbag is deflated, the child seat would be struck with great force.
Always read and follow the manufacturer's instructions for fitting the seat. If you cannot understand the instructions or have lost your copy then contact the manufacturer.
When fitting the car seat, you need to ensure that the car seat is resting firmly on the seat of the car, with little or no room for movement to the front or back.
The seat belt should also pass through all the corresponding guides on the car seat.
Once fitted you should check that the seat buckle is not resting on the frame of the car seat.
To check that it is properly fitted, push your weight into the car seat while tightening the seat belt. If correctly fitted then there should be no slack.
Always keep the manual with the car seat and if you have any concerns about how the car seat is fitted then it's important that you speak to a professional.
If you are fitting a forward-facing car seat make sure that the car seat is positioned as far back as it will go as this reduces the chances of injury.
Never modify a car seat or car to make it fit.