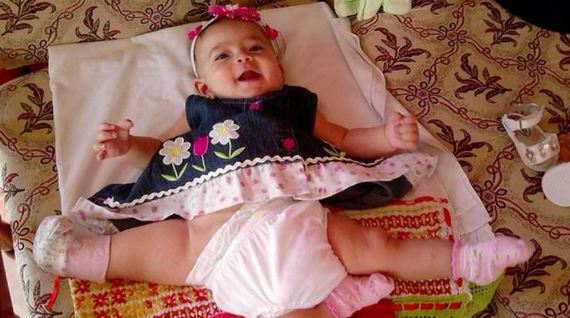 A 22-month-old little girl has arrived in Los Angeles to undergo surgery to remove one of her legs.
Ana Paula was left with three legs after being separated from her conjoined twin. She was attached to her sister at the pelvis, but her sister did not survive the separation surgery.
She will have her middle leg removed as the hospital's chief of staff Dr. Kit Song said that her right leg did not have a functional knee or foot so would likely be removed from above the knee. She will then be fitted with a prosthetic leg and will hopefully be able to walk.
Dr. Phoebe Scott-Wyard said: "I think she'll be very functional as a walker, at the very least with crutches or with the arm crutches or something similar."
Of course, Dr. Song admitted that Ana Paula may not be as agile as other children:
"Will she be able to run and play like other children? No. She will be different than other children, but she will be able to move about and keep up with her peers."
However, he is confident about the surgery, which will take place in a month's time:
"I think we can execute this very well, it's the thinking process behind the plan that's going to take some time."
Dr. Song also added that Ana Paula's medical condition was so rare that there are only 12 survivable cases like it in the world each year.