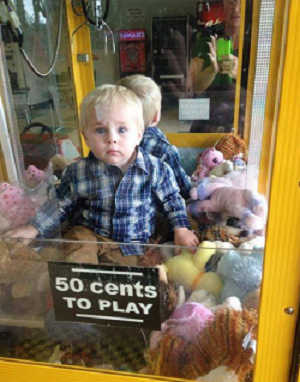 This kind of scenario seems to be happening far too often!
An 18-month-old boy had to be rescued by firefighters after getting stuck in a toy-claw machine on Tuesday.
Little Colin Lambert was in a laundry-mat, in Tennessee, with his grandmother when he decided to go off on a little adventure, then ended up getting stuck amid a sea of cuddly toys.
Colin's grandmother, Diane O'Neill, says that she only took her eyes off him for a few seconds when she realised what he had done.
Speaking to NBC, she said: "I grabbed his feet and tried to pull him back out. He kicked my hand and got in."
He sounds like he was a man on a mission!
"He went in. He climbed up on the shelf and then he climbed over the glass partition and sat down in the toys and played with toys," she added.
After making an urgent call to the Maryland firefighting department, Ms O'Neill was soon reunited with her mischievous grandson.
And it wasn't a complete failure of a mission for Colin – he was allowed to keep a toy for his troubles!