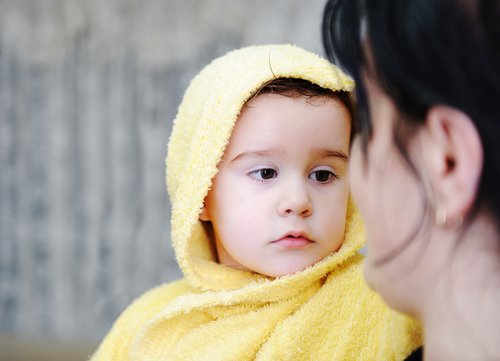 Washing your toddler's hair can be a mix of wanting them to be clean and just wanting the whole ordeal to be over. Here are five strategies you can do to make it a whole lot easier.
Call it something else
If even the mention of hair washing causes your toddler to go into a spin, why not simply call it something else. Keep it light and funny – like a rain shower - and steer clear of even mentioning the words hair or washing. This simple act might be enough for your little one to be able to distance themselves from the trauma of washing hair.
Use a head shield
A head shield sits on your little one's head and prevents water running down their face or getting into their eyes. They ensure your little one can get on with playing with the bath toys while you get on with washing their hair – without any tantrums or complaints of suds in eyes.
Choose a baby shampoo
Try to go for a baby shampoo that creates fewer suds and won't sting when it goes into eyes. However, you can use your own shampoo on their hair it just might sting a little more if it goes into eyes - the last thing you want.
Use your hands
Don't pour the shampoo straight onto your child's head from the bottle. Instead, put it onto your hands and rub through your little one's hair like that. The feel of shampoo dripping over their scalp can cause them to panic that it will go into their eyes even if you know it won't.
Check what's in the bottle
Some shampoos can irritate your little one's head making bath time not very pleasant. Try to use a shampoo with a low pH level, preferably a neutral one, and avoid ones that have sodium lauryl sulphate, Diethanolamine, Monoethanolamine or Trianolamine in them. Keep fragrance bottles, unless kid-friendly, to a minimum.
Make it fun
All kids want is to have some fun, so incorporate this into their bath time. Use old plastic bottles, jars, various buckets etc. for pouring – anything you can get your hands on really.