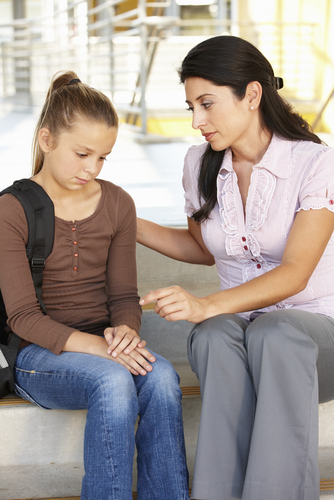 School can be tough for little kids and older children and while many might moan about going to class, there will be a few who just downright refuse to go.
If you are struggling to get your son or daughter to go to school without causing a fuss in the morning, these five tips will come in very handy:
Talk about what they don't like
If your little one is always causing a fuss when it comes to going to school, maybe there is something a little more deeper going on. Get them to talk about their day and to try to ascertain what it is about school that they don't like: are they struggling with subjects, don't have anyone to play with or are they being picked on or bullied. These things can be fixed but until they are, they can make school very tough.
Are they bored?
While other kids may struggle with work, a few might find that they are flying in class and are finding it quite boring when a teacher has to slow down so that others can catch up. Talk to the teacher about trying to get stimulating activities to keep your child happy when it comes to work and learning. A bored child is not a happy child.
Be interested in the school
Try to be as interested in their life at school as much as possible. If you aren't talking about what your little one is getting up to in class they may start to feel excluded from the home or feel there is no point in learning. Maybe they don't want to be away from you or are feeling like they are missing out on stuff at home. When you collect them, talk about your day and ask them questions about what they got up to. T
his way your little one will know what happened while they weren't in school.
Don't make a big deal out of it
Try not to make a huge deal when they express their dislike of school. Avoid giving out to them or punishing them when they cause a fuss about going to class.
It can be hard to try to keep your cool when your little one is crying and refusing to go to school when you are in a hurry, but you need to at least try.
When they are upset, shower them in kisses and hugs and try to find things about school that they do like. If you focus on the one positive thing, even if there is only one, at least they will be able to know that there is something that they love.