Many mums might have questions when it comes to shoes for their kids. How old should they get their child's foot fitted? What are the risks of wearing ill-fitting shoes? Can they wear second-hand shoes? Can children wear shoes with a heel? Clarks kids fitting expert, Bob Hardy, has answered all these questions that you might have. So whether you're buying your child's first pair of shoes, taking them for their first fitting, or getting them their school shoes, here is everything you need to know.
Q: At what age should a child first get fitted for shoes?
It is always best for a child to not wear shoes as they learn to walk as it encourages the healthy development of the feet. However, even in the most pleasant climate there are many situations where proper shoes are required to provide some protection for the feet. If needed the shoes should match the child's stage of development which is crawling, cruising (walking but holding onto furniture to maintain balance) and independent walking. Clarks have researched every stage of walking development (there are up to seven stages by the age of seven or eight) and produced shoes clearly identified by a symbol on the sole for each of the first three stages. This means a child can start wearing shoes as soon as they crawl (as early as seven months) but possibly not at all until they are 15 or 16 months if circumstances do not require shoes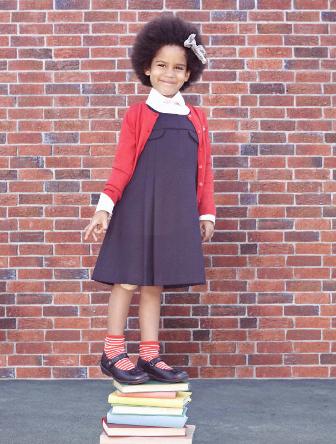 Q: How often should parents take their child to be fitted for shoes?
From the first pair of shoes until about aged two the first check should be after 6 – 8 weeks and then as recommended by a shoe fitter until the shoes are outgrown. Often this first check just confirms everything is OK. From about two the time to the first check is extended up to about 3 – 4 months and after aged five the first check can be after 4 – 5 months. Growing occurs in spurts so regular checks are essential and a good shoe store will offer these checks on shoes they have sold free of charge.
Q: Why is it important to get shoes with the right fit for children?
Fewer than a third of children have an "average" foot width and their feet are changing internally, externally and they experience up to seven stage of walking development. To allow us to walk correctly shoes need to fit much more precisely than any other item of clothing so an accurate fit achieved by shoes available in half sizes and width fittings and fitting by a trained shoe fitter are essential to allow healthy development to take place
Q: What conditions are children at risk of from wearing ill fitting shoes?
Problems can range from skin problems (hard skin, corns or aggravating conditions like Athletes Foot if the shoe materials are not breathable) to bone problems (eventually bunions, claw or hammer toes) and even gait (walking) problems that can affect the ankles, knees, hips and back
Q: What are the consequences for buying shoes that are too big/small/wide/narrow?
Almost every shoe type will dictate its shape to the child's foot which is softer than even the softest and most flexible shoes. Much of the damage seen in feet of middle aged and older people can have its origin from poorly fitting shoes as a child. Children cannot really understand when a shoe is wrong on their feet so the services of a good trained shoe fitter are essential to ensure healthy foot development
Q: Is wearing second hand shoes bad for children's feet?
Whilst shoes will dictate their shape to a child's foot if they are badly fitting they do wear to a pattern unique to the original wearer's feet and gait (walking) action. Even if a second child measures exactly the same size there gait action will differ and there could be problems so don't hand down any shoes that shows signs of wear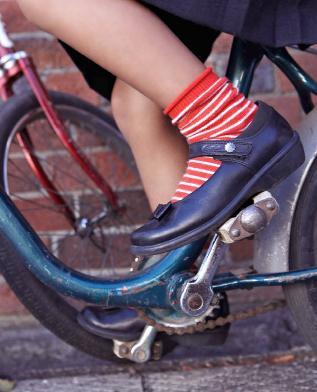 Q: How can a parent tell when children's shoes need replacing?
It is possible to follow a few simple checks at home (information on the
Clarks website
) but if you have bought your child's shoe from a shop that fitted them at the point of sale then they will happily check them for free any time you care to call in the store.
Q: Is there a difference between fitting everyday shoes and sports shoes for children?
No, children often wear sports shoes as every day casual shoes and sometimes for school wear for long periods of time.
Q: Why is professional fitting recommended?
Children and often their parents as well don't really know what is needed in their shoes to give a great fit. All Clarks Shoe Fitters have received many hours of training and proved they can fit at least 50 pairs of shoes correctly before they are acknowledged as fully trained.
Q: Are shoes with high heels recommended for children?
For a special occasion or a party perhaps OK but anything more than a couple of hours can cause damage or gait problems that could become a permanent and possibly debilitating problem for the little girl as they grow up or in adult life