Old Rectory is a unique range of children's clothes, accessories and blankets with beautiful, vibrant prints that are both kind to you baby and kind to the environment. Old Rectory products use organic material and all prints are all original. The business was founded by sisters Joanna and Stephanie Sloan in 2010. They have used their experience working with textiles and as mothers to create a range of products for babies that are of the highest quality and timeless in design.
Old Rectory design and sample all their clothes from the Old Rectory Print Studio in Ireland and use of organic cotton and Oeko-tex certified dyes, ensuring the best for you and your child.
Their prints include Rabbit, Owl, Birdhouse, Rectory Garden, Ballard Farm and Swallows. Some prints have been inspired by sketches and scrapbooks once belonging to Joanna and Stephanie's grandfather, Dr. Wolsey Sloan who was an avid observer of wildlife, making these designs especially unique.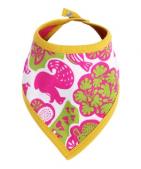 The range includes baby blankets (€42) Sleepwear such as Pyjamas (€30), baby gro (€28) and sleeping bags (€40), hats (€8), bibs (€9) and much, much more.
With a gentle colour palette, unusual prints and material that is soft on your baby's skin, both mums and babies will love Old Rectory. To see more of their range
click here
.